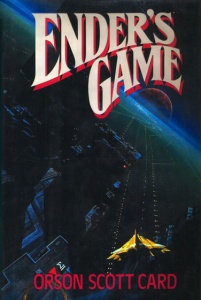 Hollywood has a history of taking blockbuster (extremely popular and successful) fiction novels and turning them into (making from them) blockbuster movies. A recent example was The Hunger Games written by Suzanne Collins. The film version grossed (earned, before expenses are subtracted) over $680 million worldwide. Another popular novel is being made into a film and will soon be released as a movie: Ender's Game.
Ender's Game has some parallels (similar points or characteristics) with The Hunger Games. The protagonist (main character) is a child/teenager rather than an adult, the story is set (takes place) in the future, and the world is in crisis (in a very difficult situation likely to get worse at any moment).
Ender's Game is a science fiction novel (book set in the future where technology is important) set in a world where an alien race (culture of people who come from another planet) has already attacked the Earth twice, killing many people and causing great destruction (damage). To get ready for a third world war, the government is looking for children to train as soldiers (people who fight in a war). Ultimately (most importantly), they are looking for a child genius (extremely smart person) who can save the world. Ender may be that child.
This may seem like a strange premise (basis for a story), and I'm normally not a reader of science fiction. However, in addition to this being a very exciting and hard-to-put-down (difficult to stop reading because it is so interesting) novel, it is a look at what it takes to train and produce the ultimate (the most; the greatest) soldier, strategist (person who plans actions and policies), and leader.
When the novel begins, Ender Wiggins is only six years old and an extremely intelligent child, who is then manipulated (controlled in a clever and subtle way) to become a tool to use to fight the enemy. Through years of training, we see from Ender's point of view what happens to him psychologically (in the mind) as a result. It brings up difficult questions such as: "What are we willing to sacrifice to save others?" and "What are we willing to do to ourselves and others to achieve our the most important goals?"
Ender's Game is sometimes called a young adult novel (novel for teenagers) because the protagonist is a child. But after reading it, I can say that the themes are very much adult themes that have relevance to our world today, and there is nothing childish about the novel. It's an intelligently and sympathetically (with understanding of what others are feeling) written novel that had me on the edge of my seat (excited, waiting to see what will happen next).
The novel was published in 1985 and has won several prestigious (well-respected) awards for best science fiction, including the Nebula Award and the Hugo Award. If you like Ender's Game, the author Orson Scott Card has written a number of sequels (continuing books that follow the same story).
The film is set to (scheduled to) be released in November here in the U.S. If you get a chance, I highly recommend reading the novel. I'm glad I did.
~ Lucy
Image Credit: Ender's game cover  from Wikipedia