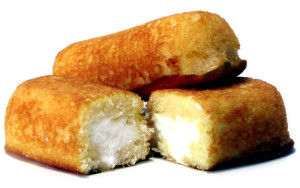 There are few American foods more beloved (loved very much) than the Twinkie. This modest (not fancy) snack cake with a white filling (a type of food that is found inside other foods) is over 80 years old and is part of the childhoods of many Americans, at least the unhealthy ones like mine.
Since their invention (creation) in 1930, they had been made by the large snack food company Hostess. However, in May of 2012, Hostess filed for bankruptcy (officially stated that they had no money to continue) because sales were down, since many people had switched to (changed to; were selecting other) healthier snack foods. The costs of labor (worker salaries) and production (making the product) were now just too high.
The news that Hostess would stop production of Twinkies was shocking (very surprising) for many Americans. People who grew up with Twinkies had a hard time imagining the demise (death; end) of such an iconic (representing some idea, period, or experience) American food. In fact, there was a run on (selling very quickly until all are sold) the remaining Twinkies in stores.
But for those who can't imagine life without Twinkies, there is good news. Another company purchased part of the Hostess company that makes Twinkies earlier this year. Twinkies returned to American stores this week.
To be honest, I have not had a Twinkie in over 25 years. The list of ingredients (things combined to make a food) is a parent's or doctor's nightmare (bad dream). However, I can't deny (say it isn't true) that Twinkies hold a special place in my heart and I'm glad they're back. To mark the occasion (celebrate an event), I might go out and buy a package of Twinkies, open it, and take one bite. Eating any more might kill me.
Is there a snack food where you live that is beloved, but that is also very bad for you?
~ Lucy
 Photo Credit:  Hostess Twinkies from Wikipedia