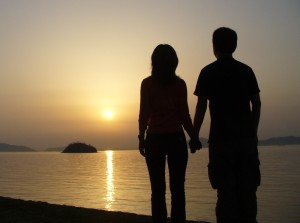 A man or a woman asks you out on a date. You have coffee, lunch, or dinner together. You find out more about each other. You fall in love and you live happily ever after (forever), right?
Well, things aren't quite that simple. According to a recent Glamour magazine article about a survey (piece of research; questionnaire) conducted by Match.com, a popular Internet dating website, people are using "pre-dating" to help them decide whether to give someone a chance or not. "Pre-dating" is the use of the Internet and social media websites to find out information about a potential (possible) date.
According to the Match.com survey, about 50% of women research a man on Facebook before a date. Others look at LinkedIn, a social media site for people making professional contacts, Twitter, or blogs. The survey included about 5,500 singles (unmarried or uncommitted men and women).
Among the things they search for are ex-boyfriends and girlfriends, what they do for a living (job or career), playlists (selection of favorite songs that can be played one after another), and any other information that would give singles an idea of who they may be dating.
According to the same survey, a surprising 49% of women had cancelled a first date because of something they found out (discovered; learned) about that person online. That's actually not too surprising, since another study mentioned in the article found that when we find out one thing we object to (don't like) about a person, we tend to judge them very harshly (strictly; believing something is worse than it really is), even if we're compatible (have similar ideas or interests) in other areas and like and respect that person for other things.  The author of the study points out that disillusionment (finding out that something is not as good as we once believed) may take hours if we talk to the person, but can happen instantly (immediately; without delay) when we see that information online.
If you're single, do you do "pre-dating"? Have you decided to date or not to date someone strictly (only) based on what you've found out?
Looking at it more generally, have you ever not associated with or not been friends with someone because of something you found out about them online? Has online information ever affected your decision to hire or work with someone?
~ Lucy
Photo Credit: Couple 01 from Wikipedia