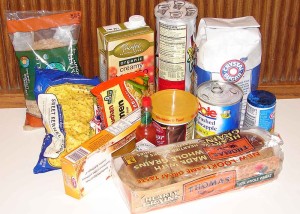 There is an old saying, "You are what you eat," which means that if you eat good food, you'll be healthy, and if you don't, you won't.
But do we really know what we're eating?
In the past year or two, the news media (newspapers, magazines, TV news, Internet news, etc.) has reported on foods that are purportedly (said to be; claim to be) one thing, but are instead something else, usually something cheaper, of poorer quality, or not meant for (intended for) human consumption (for people to eat or drink).
You buy beef, but it's really horse meat. You buy salmon, but it's really dyed (made to changed colors) white fish. You buy saffron, the most expensive spice (substance used to improve the taste of food) in the world, but it's been doctored (changed to make it appear to be something else) with red dye, a substance know to cause cancer.
I recently read about a non-profit (not intended to make money) website called the USP Fraud Database intended to help regulators (people whose job is to enforce rules and laws) and large-scale purchasers (buyers of large quantities) spot (find) food scams (frauds; tricks) and substitutes (things used instead of the real thing). The database has over 2,000 foods that have been known to be a product of fraud based on food-related research studies. The database even lists those research studies in case you want to know the source (where something comes from) and/or to read more about them.
If you type in "saffron," that spice I mentioned before, you'll find that there are over 100 "adulterants," or substances put into it or in place of it that shouldn't be there, including flowers, other spices, and even chalk (the white limestone substance sometimes made into sticks to write on chalkboards in classrooms)! Yuck (disgusting)!
You can take a look at the USP Fraud Database yourself and search for foods you commonly eat. But, then again (on the other hand; from another view), sometimes ignorance is bliss (not knowing makes you happier).
~ Lucy
Photo Credit: Packages from Wikipedia