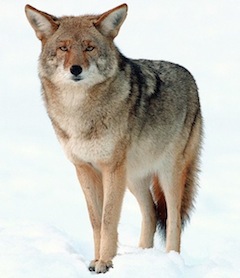 Small animals have lived in cities for many years. They are so common that some people refer to (call) them as unnoticed neighbors because they aren't aware of them (don't know they're there). New York's Central Park is home to 300 species (kinds) of birds and many small mammals (animals that drink milk from their mother when they're young). Boston's Back Bay (protected part of the sea) was designed to create habitat (a home for animals) and attract animals that live in marshlands (ground that is always wet) to the city. As natural habitats shrink (get smaller) or disappear, manmade areas like these become more important. In many ways they are the best and safest kind of urban (city) habitat for animals that have no other place to go.
In other urban areas, chimneys (pipe for smoke), drainage ditches (system for moving unwanted water out of the city), and other structures (something that has been built) provide habitat for other animals. A drainage ditch just one block from where I live provides habitat for migrating (traveling) ducks and geese and a permanent home for a snowy egret.
But what happens when animals begin to leave the open areas in and around the cities and move into the inner city (downtown) or into neighborhoods where people live?
Often it's okay. My wife works for a company that occupies a large, hilly park-like area. When she walks to her car after working in the evening, she is often serenaded (to serenade is to sing to someone) by the coyotes (photo above) who live in the area. During the day she may see a herd (group) of deer – as many as 20 – grazing on (eating) the grass as she drives from one place to another. This area is mostly surrounded (to be on every side) by houses, apartments, commercial buildings, and freeways, and the animals cause no problems.
Stan Gehrt, an animal researcher in Chicago, is impressed with the way some animals adapt to (become successful in) the urban environment. He tells of coyotes who wait until traffic clears (goes away) before running across the road. Sometimes they even stop on the median (area in between two sides of a road) and wait until the traffic moving the other direction clears before continuing across. One coyote in downtown Chicago seems to know when traffic lights are red or green. She waits until the cars stop before she runs across the road. She's been doing that for more than three years and has never been hit by a car.
As cities grow and natural habitats shrink, Gehrt is worried that larger animals will come to town. And that's happened here in southern California.
In the city of Glendale, a bear called Meatball made many visits to foothill (small hills below high mountains) neighborhoods. He ate from people's trash containers and even got into an outdoor freezer (a place to keep frozen food) filled with frozen meatballs – that's how he got his name! Officials tried twice (two times) to relocate (move) him deep into the Angeles National Forest, but he came back both times. He was finally taken to a wildlife sanctuary (safe place for animals) near San Diego.
The story doesn't end there. A second bear has appeared in Glendale and made many visits during the last six months. On one visit he destroyed a group of bee hives (box where bees are kept) and ate much of the honey. Officials hope they can catch him soon and take him to the same wildlife sanctuary that Meatball lives in.
Have animals moved into the city where you live? What kind? Have they caused any problems?
~ Warren Ediger – English coach/tutor and creator of the Successful English website.
Photo courtesy of Wikipedia Commons