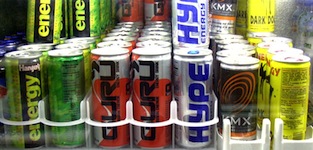 180 gallons (681.5 liters) a year. That's how much The Atlantic says the typical (average) American drinks every year. That's five small cups (or three large cups) of Starbucks coffee a day. Or it's five cans of soda, like Coca Cola, or five glasses of milk. Does that sound like a lot? Maybe, but maybe not.
To me, the interesting part of The Atlantic article wasn't how much Americans drink. It's what they drink and how that's been changing. The Atlantic tells us that "American drinking habits have undergone a major shift (change) in the last decade (ten years)." The consumption (to eat or drink something) of soda is down (has decreased) more than 15%. Bottled water is up (has increased) 50%. Energy drinks, like Red Bull and 5-Hour Energy, are up 100%. Cheap light beer is down, but craft beers are up. And wine and spirits – strong alcoholic drinks like brandy, whiskey, bourbon, and gin – are up.
The energy drink statistic (a number that represents a fact) caught my attention (made me stop and think). I'm not surprised that energy drink consumption has doubled in the last ten years. I wouldn't have been surprised if it had tripled (increased three times) or even more. Energy drinks seem to be everywhere, including in the news.
Many people believe that energy drinks give them more energy and help them think better. Or, as the manufacturers say, they "provide consumers (people who use them) with a physical and mental edge (advantage)." However, there may be a problem.
According to a recent government study, reported by The New York Times, more than 20,000 people went to the hospital emergency room (ER) because of problems related to using energy drinks in 2011. The problems included anxiety (the feeling of being very worried), headaches, irregular (not regular) heartbeats, and heart attacks. In 2007, the number of ER visits was only 10,000.
The problem isn't only with the energy drinks. The study also shows that nearly half of those who went to the ER "for problems related to energy drinks had consumed the drinks along with alcohol or other substances (drugs)…." Many of these are 18-to-25-year-old young men.
The government study says that "consumption of energy drinks is a rising (growing) public health problem because medical and behavioral (how someone acts) problems can result from excessive (too much) caffeine intake (consumption)…particularly for children, adolescents (teenagers), and young adults (18-25-year-olds)." The manufacturers, on the other hand, insist that their products are safe.
Probably the safest thing to say is that we need more research about the benefits and the effects of energy drinks. And probably the wisest thing to do until that research is done is to exercise caution (be careful) with them.
Are energy drinks popular where you live? Do you use them?
~ Warren Ediger – English tutor/coach and creator of Successful English, where you'll find clear explanations and practical suggestions for better English.
Photo of energy drinks courtesy of Wikipedia Commons.