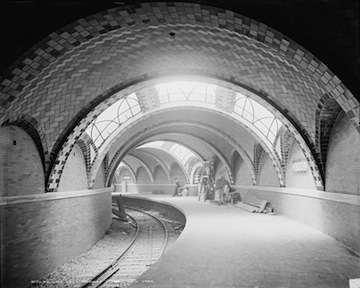 New York's subway system – one of the world's largest and busiest – was part of a grand (big and impressive) plan that would make it possible for anyone living in the greater New York area (in and around New York City) to go wherever they wanted to go.
However, the Great Depression, World War II, higher prices after the war, and other factors (causes) kept the grand plan from being completed. Parts of the subway were never built. Some parts that were built were never used. Many of those parts have been hidden from public view (can't be seen). And they've never been seen by the millions of people who walk, drive, or ride just a short distance away.
One of those, the City Hall station, was supposed to have been the showpiece (something that attracts attention) of the subway system. It was designed by a well-known Spanish architect (someone who designs buildings). It's beautiful, with curved walls and arched (curved) ceilings. The walls and ceilings are decorated with colored tiles, stained (colored) glass windows and skylights (windows in the ceiling) and brass (bright yellow metal) chandeliers (round frames that hold lights and hang from the ceiling). These photos will show you what I mean. Many people believe that it looks similar to New York's well-known Grand Central Terminal (railroad station).
City Hall station opened in 1904. But as beautiful as it was (even though it was beautiful), it never was an important station. It was near the end of the #6 line (track that a train travels on) and most riders got off before City Hall to transfer (change) to other subway trains.
City Hall station was closed in 1941. Since then very few people have seen it. The station is in an area where trains turn around, and passengers had to get off. Recently, however, subway administrators (managers) have begun to allow passengers to stay on the train while it turns around. Even though they can't get off the train to look at the City Hall station, passengers can see most of it while the train slowly moves past.
I haven't seen City Hall station, but I'd like to. Would you? Do subways where you live have similar hidden wonders (something that makes you feel surprise and admiration)?
~ Warren Ediger – English coach/tutor and creator of the Successful English web site.
Photo of City Hall station courtesy of Wikipedia Commons.