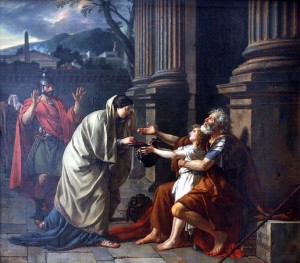 When November rolls around (arrives as usual), people start talking about "the season of giving," a time around Thanksgiving (celebrated on the fourth Thursday of November) and Christmas (December 25th). Thanksgiving brings to mind (makes us think) all of the things we are grateful for and about those people and families who are doing without (without the things they need), and December is the time we think about those we care about and of gift-giving.
It's not surprising, then, that this is also the time of year when organizations send out the most solicitations (notices asking for something) for donations (money to help a cause or organization) and other support. A recent study in the science journal Nature reported in the Los Angeles Times suggests that people are inclined to help (naturally want to help) others, but the longer they wait, the less likely they are to give.
In the study, people were given some money and asked to donate to a group project, and the total amount would be split evenly (divided into equal parts) among the four group members. Those people who were given less time to decide gave more. The researchers concluded that the people in the study were inclined to contribute (give), but time made people less willing to go through with it (finish what they started to do or what they intended to do, especially after a period of being unsure about wanting to do it).
Have you found this to be true based on your experience? Do you, or other people you know, tend to give less when given the time to think it over?
I'm going to test it right now. I feel like giving away $1 million. But first, I'm going to take a nap. We'll see how I feel about it afterwards.
~ Lucy
Picture Credit: Belisaire demandant l'aumone (Belisaire asking for alms) by Jacque-Louis David from Wikipedia