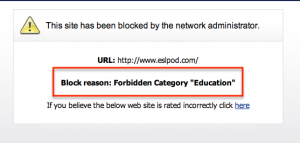 Many businesses worry about their employees wasting time (not doing what you're supposed to be doing; being unproductive) at work when they use the Internet. A common solution is to install (put in) special software that will block (prevent; stop) you from accessing (looking at) websites the software deems (decides; determines) are a waste of your (and the company's) time. Sometimes the software gets carried away (goes too far; does too much), however.
I recently went to a mechanic (someone who fixes cars) in order to get an oil change (when you put in new motor oil into your car's engine). Like a lot of places nowadays, the garage (place where you get your car fixed) had wifi for its customers, so I fired up (turned on) my laptop and tried to navigate (go to) a few websites.
Since it was a workday (a day I normally work; Monday through Friday), I needed to check out the ESL Podcast website for a few things. But when I tried to go to eslpod.com, I wasn't allowed to access it. Instead (in place of getting it), I got a notice (see photo) which said:
Block Reason: Forbidden Category "Education."
Forbidden means not allowed, not permitted.
Apparently, websites related to education were considered a waste of time by the software.
So, folks (guys; informal for "people"), be careful about learning too much at work. It might be considered a waste of time by your company's software.
~Jeff
Photo credit: Jeff McQuillan