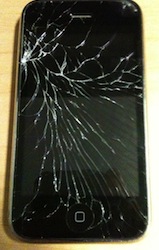 I pulled into the carport (a protected area with only a roof) at my mother's house late one Sunday night last year, tired after a long difficult day. While driving, I had used my iPhone to talk to my brother who had left early that morning to drive home, almost 500 miles (about 800 km) away. After I stopped, I picked up my phone – leaving the earbuds (small headphone worn in the ear) in my ears – and opened the car door. As I got out, the earbud cord caught on the door and jerked (suddenly pulled) the phone out of my hand.
I remember thinking, "This is not going to be good," as my iPhone flew several feet and fell to the concrete (hard material sometimes called cement).
I walked to where my iPhone had fallen, picked it up, turned it over, and had my fears confirmed (to show that something is true). The face (front) of my phone had shattered (broken into many pieces). Several long cracks (thin lines) divided the glass face into large triangles and, in the corner the phone had landed on, several small pieces of glass had already fallen out. My phone still worked, but that was the only good news.
I'm sure that many people have had accidents with their smartphones. Where do you think most of these accidents happen? In the car? In the house? And, if in the house, in which room? Who's responsible for the accident? The owner? Or someone else?
The web site Squaretrade just released (published) the results of a survey about fatal (having a very bad effect) iPhone accidents. For this post, I'm going to assume that owners of other smart phones have had similar experiences.
The main finding (result or discovery) of the survey is that about 70% of accidents are caused by the owner. And about 50% of them happen inside, at home.
The most dangerous rooms for phones are the kitchen (21% of accidents), living room (18%), bathroom (16%), driveway (10%) and bedroom (8%). I'm a member of the driveway group.
Spilled liquids are responsible for much, perhaps most, of the damage to phones. Water (43%) is the greatest culprit (cause). Together, soda (19%), beer (12%), and coffee or tea (12%) account for (are responsible for) another 43%.
About 5% of phones met their fate (have something bad happen) when their owners put them in the washing machine, 9% when their owners dropped them into the toilet, and 6% when their owners put them on top of their car and drove off.
Fortunately, my story has a happy ending. Several months after my accident, I took my iPhone to an Apple Store to see if it could be fixed. The woman at the customer service counter (place where you pay or are served) told me it couldn't, but that she could give me a new one. I'm not sure why she decided to do that, but, as you can imagine, I was delighted to walk out of the store with a new phone!
Have you had a serious accident with your smartphone? What happened? Was it fatal?
~ Warren Ediger – creator of Successful English.
Photo courtesy of TedsBlog used under Creative Commons license.