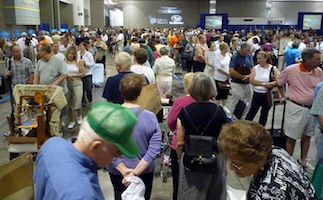 "I don't know an awful lot about it," said Ted shaking (moving back and forth) his head, "except that it was given to the foster father (a foster parent is someone who takes care of someone else's child) of my grandmother. It's been lying on the back of a chair [in our house]."
"And do you know who made this weaving* (blanket)?" asked the appraiser (someone who tells the value of something). "Do you know what kind of blanket it is?
"It's probably a Navajo (a group of Native Americans), but that's all I know."
"So you haven't had anybody look at it or…?"
"Nobody's ever looked at it that I'm aware of," replied Ted.
"Well, Ted," the appraiser hesitated (paused, waited) a moment, "did you notice that when you showed this to me that I kind of stopped breathing a little bit?"
"Yeah, you did!
"I'm still having trouble breathing here, Ted."
"It took me by surprise because I didn't think much about it," said Ted. "It's probably a chief's (leader of a Native American tribe) blanket, but…."
"Exactly," the appraiser interrupted, "and it's not just a chief's blanket…."
I remember this conversation. I heard it about eight years ago on the Antiques Roadshow. And even though it wasn't a long conversation, you could feel the excitement grow moment by moment.
The Antiques Roadshow describes itself as part adventure, part history lesson, and part treasure hunt (where you try to find valuable things that are hidden). It's the most popular weekly television program on the Public Broadcasting System (PBS), and it's been nominated (officially suggested) for many awards during its 16 years.
Every week people like Ted bring heirlooms (valuable objects owned by a family for many years), yard sale bargains (something you buy for less than it originally cost), and items found in attics (the space below a roof) and basements (the space under a house) to the Antiques Roadshow to be appraised (tell the value of). And every week, almost 10-million television viewers watch while professionals from large auction houses (where objects are sold to the people who offer the most money), like Christie's and Sotheby's, and independent dealers (someone who buys and sells a particular product) from across the U.S. reveal (make known) fascinating facts about these items and estimate (say approximately) their value.
I'm fascinated by the history lesson part of the Roadshow. A table that was given to someone's grandmother as a wedding gift more than 100 years ago, that traveled with the family across the country through good years and bad, and has been handed down from one generation (all people of about the same age) to another until it reaches the present owner tells a unique story. We learn a lot about groups of people and society from these stories. And they help us understand the lives and experiences of ordinary people in a special way.
Let's return to the conversation between Ted and the appraiser.
"It's the first type of chief's blanket made," explained the appraiser. "These were made in 1840 to 1860. It's a Ute (Native American tribe) wearing blanket. It's Navajo-made. They were made for Ute chiefs. This is Navajo weaving in its purest form. This is the beginning of Navajo weaving."
"Wow!" exclaimed Ted.
"And not only that," continued the appraiser, "the condition of this is unbelievable. [And] an interesting thing: this is almost like silk. It's made from hand-woven wool, but it's so finely done, it's like silk. Do you have a sense (an idea) at all of what you're looking here in terms of value?"
"I haven't a clue (idea)."
"Well, sir," the appraiser paused as he looked for the right words, "I have to tell you, on a really bad day this textile (piece of fabric) would be worth $350,000. On a good day it's about half a million dollars. You have a national treasure!"
"I can't believe this!" Ted exclaimed.
Not every Roadshow story ends this way. Sometimes the appraiser begins with "Unfortunately" or "I'm sorry, but…" before he or she gives the bad news. Even then, in spite of the owner's disappointment, a little more history is revealed.
Notes:
*The word weaving is used here as a synonym for blanket. Later in the conversation it is used to describe a method of making fabric, or cloth.
The conversation between Ted and the appraiser was adapted (modified for this post) from the transcript found on the Antiques Roadshow web site. You can read and listen to this conversation and conversations about other great finds (discoveries) on their site.
~ Warren Ediger – English tutor/coach and creator of Successful English, where you can find clear explanations and practical suggestions for better English.
Photo courtesy of Wikipedia Commons.