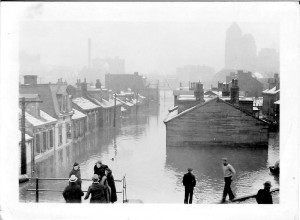 Since there was an overwhelming (large) majority who voted in favor of (for) including jokes on the blog, I am going to try another one today.  I'll give the joke, then explain it briefly below.
There was an old man sitting on his porch (an area outside the house, usually in the front, on the first level), watching the rain fall. Pretty (very) soon the water was coming over (getting so high that it entered) the porch and into the house.
The old man was still sitting there when a rescue (someone who saves you in an emergency) boat came and the people on board (in the boat) said, "You can't stay (remain) here! You have to come with us." The old man replied, "No, God will save me." So the boat left.
A little while (a short time) later, the water was up to (had reached; was as high as) the second floor (level), and another rescue boat came, and again told the old man he had to come with them.The old man again replied, "God will save me." So the boat left him again.
An hour later the water was up to the roof (top of the house) and a third rescue boat approached (came near) the old man, and tried to get him to come with them. Again the old man refused to leave, saying, "God will save me." So the boat left him again.
Soon after, the man drowned (died in the water) and went to Heaven (paradise), and when he saw God, he asked him, "Why didn't you save me?"
God replied, "You dummy (idiot; stupid person)! I tried. I sent three boats after (for; to get) you!!"
The man thinks God will save him from the flood (when there is too much water in an area, making it dangerous to be there). But he doesn't realize or understand that the rescue boats that come to help him are really sent by God, so the man doesn't accept their help. God tells him this after he dies and goes to Heaven.
There are probably some good theological (theology = study of God) points (conclusions) you could make from this joke, but I'll let you decide that for yourself.
~Jeff
Joke credit: CleanJoke.com; Photo credit: Pittsburgh Flood, 1936, Wikipedia PD