If you're like me, you're at least a little cynical (not trusting; believing people are acting for their own good, not yours) about politics and politicians. A few weeks ago, I saw this photo and it put a smile on my face. That's hard to do when I'm reading about politicians.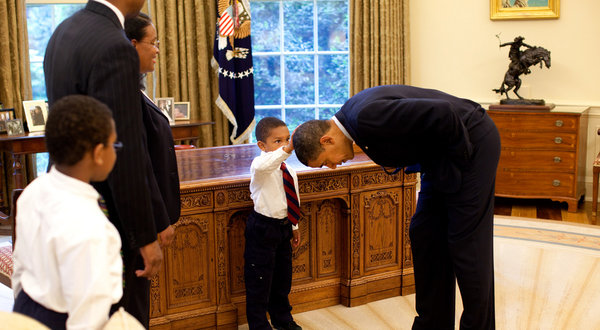 Here's the story behind the photo:  The little boy touching President Obama's hair is named Jacob, and Jacob's father worked at the White House, but was leaving his job. As is tradition (normally done), he asked for a photo of his family with the President. As the family was leaving the room, Jacob's father told President Obama that each of his sons had a question for him. Neither of the boys' parents knew what they would ask.
Jacob, the younger son and only 5-years-old at the time, asked his question first: "I want to know if my hair is just like yours."
The President responded, "Why don't you touch it and see for yourself?," and proceeded to (continued to) bend down (lowered himself from the waist) so that his head was within Jacob's reach (near Jacob's hand). Jacob hesitated and the President said, "Touch it, dude!" Jacob touch the President's hair and Obama asked, "So, what do you think?" And Jacob responded, "Yes, it does feel the same."
Even for cynical people like me, this was a very poignant (strongly emotional or meaningful) moment. For the little boy to meet someone who looked like him in this position of authority was not only meaningful for him, but perhaps for a lot of children like him. This photo is displayed in the White House and it is a favorite among White House staffers (employees). I can see why.
~ Lucy
* "A picture is worth a thousand words" is an old saying meaning that a complex or complicated idea can be communicated in just one simple picture or image.
Photo Credit: White House Photo