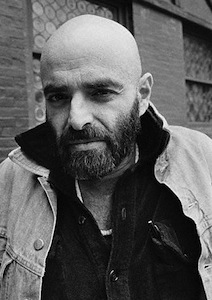 Shel Silverstein – sometimes called Uncle Shelby – is one of America's best-loved children's writers and illustrators (person who draws pictures for books, magazines). He wrote stories and poems for children that are full of wisdom for adults. Silverstein died in 1999, but his works live on (continue to exist; be popular).
Silverstein is probably known best for his poem The Giving Tree, which later became the title for a collection of his poems. The Giving Tree is a story of a loving friendship between a boy and a tree, a friendship that grows and changes as the boy and the tree get older. It starts like this:
Once there was a tree…
and she loved a little boy.
And everyday the boy would come
and he would gather her leaves
and make them into crowns and play king of the forest.
He would climb up her trunk and swing from her branches
and eat apples.
And they would play hide-and-go-seek.
And when he was tired,
he would sleep in her shade.
And the boy loved the tree…
very much.
And the tree was happy.
You can listen to Silverstein read The Giving Tree in this short 1973 animated video.
Not too long ago, I discovered a video of Silverstein's 1970 appearance on The Johnny Cash Show. Johnny Cash was a very popular country-western singer and guitar player – Jeff talked about him on one of the first English Cafes.
On the show, after singing a funny short duet (song for two musicians) with Cash, Silverstein sings a poem called Daddy What If, a conversation between a father and his son. As you may know, many of those conversations begin with a child's question; so does this one:
(Daddy what if the sun stop shinin'* what would happen then?)
If the sun stopped shinin' you'd be so surprised
You'd stare (look for a long time without moving) at the heavens with wide open eyes
And the wind would carry your light to the skies
And the sun would start shinin' again

*shinin' = shining
If you want to read more of Silverstein's poems, you can find many of them on the Poem Hunter website. You can learn more about his books on his website.
Shel Silverstein isn't the only writer whose children's stories and poems are enjoyed by adults. C.S. Lewis's Chronicles of Narnia is another good example, probably my all-time favorite. Two of my favorite contemporary American writers of children's stories and poems are Patricia Polacco (start with Thank You, Mr. Falker) and Faith Ringgold (look at Tar Beach). Polacco and Ringgold are both artists as well as writers and illustrate their own books.
One of the special benefits of works by writers like Silverstein, Lewis, Polacco, and Ringgold is that they are full of interesting, easy-to-understand English (the illustrations help!) – just what you need to improve your English!
~ Warren Ediger – creator of Successful English.
 Photo of Shel Silverstein courtesy of Wikipedia Commons.