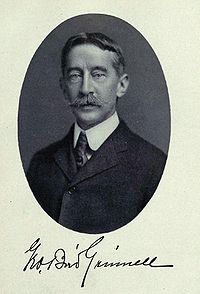 George Grinnell was looking for adventure, for what some might call an extreme (an activity that may be dangerous) vacation. Many of his friends were going to Europe, but not George. For him, Europe was too safe, too comfortable, too ordinary.
Today, if you want an extreme vacation, you might shoot the rapids (ride a small boat in very fast water) on the Colorado River in the U.S. You might trek (make a long difficult journey on foot) across the ice fields of Patagonia in Chile. You might try to climb Mount McKinley in Alaska or Kilimanjaro in Tanzania, Africa. Or you might kayak (ride a small one-person boat) the Baja Coast (where the land meets the ocean) of Mexico.
George didn't have all those choices in 1872. But that didn't stop him (keep him from doing what he wanted to do).
George and his friend Jim left Grand Central Station in New York and took the new Union Pacific railroad line to Plum Creek, a small town in Nebraska near the center of the U.S. A guide (someone who takes people where they want to go) led George and Jim on horseback to where they joined a group of Pawnee, a Native American tribe, who were following the buffalo (large animals sometimes called bison) south into the state of Kansas.
George and Jim were surprised to find more than 4,000 Pawnee – men, women, and children – traveling together across the plains (grasslands), in an area we now call the Midwest. They were welcomed by the Pawnee chief (leader) and accepted as guests. For the next week, they lived with the Pawnee as they hunted buffalo, their primary (main) source of meat and hides (animal skin) used for clothes and the tents they lived in. And they were invited to join the hunt.
George writes that the hunt began in the morning with a parade led by several Pawnee warriors. "Their saddles glittered (shined) with silver ornaments (decorations) and their bridles (leather straps used to control a horse) tinkled (rang) with little bells." That afternoon George and Jim joined the Pawnee warriors, who rode their horses bareback (without saddles) and used only traditional bows and arrows to hunt with. They silently surrounded (made a circle around) a large group of buffalo. And when one of the Pawnee gave a "shrill cry (very loud sound)", the hunt was on (began)!
After the hunt, George and Jim joined the Pawnee for a feast (large meal) of buffalo meat and other Pawnee foods.
A day or two later, they said goodbye to the Pawnee and began the long ride back to the railroad, but their extreme vacation wasn't over! On the way (while they were traveling), they were chased and shot at by a group of Cheyenne, another Native American tribe. George wrote that "the song of each bullet created an extraordinary (very great) commotion (noise) in my mind!"
George Grinnell returned to New York and became an important conservationist (someone who protects nature), writer, and student of Native American life.
Nebraska and Kansas are a lot different now – tame, not wild. But it's still an interesting part of the country. That's what New York Times Travel writer Tony Perrottet discovered and writes about in an an article that retells (tells again) Grinnell's buffalo hunt story and describes his own trip to Nebraska and Kansas to retrace Grinnel's steps (go where he went). It's a good story.
~ Warren Ediger – English tutor/coach and creator of the Successful English web site.
Photo courtesy of Wikipedia Commons.