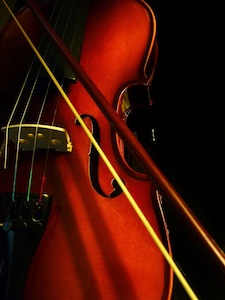 Sam Zygmuntovich is a master craftsman, a violin maker. And I've been fascinated by him since I first heard about him a few years ago.
I've always admired craftspersons (the traditional word is craftsmen), also called artisans. They are highly skilled and experienced people who make or do things. They are usually manual workers (people who work with their hands) who make things that are both functional (practical; useful) and beautiful.
In Europe – which is what I'm most familiar with – the idea of a master craftsperson goes back to the Middle Ages. There, a young man would become an apprentice (learner) to a master. While he worked for the master, he would learn the master's craft or trade (work that requires special skill and training). When he finished his training, the apprentice became a journeyman, someone who was fully trained but not yet a master. To become a master, he had to create and submit (present, show) a piece of his work to a group of masters. If they approved it (said it was good), he was accepted as a master craftsperson, allowed to open his own business, and began to enjoy the respect of people in his community.
In the Middle Ages, craftspersons would include carpenters (furniture, wooden houses), tailors (clothes), weavers (cloth), goldsmiths (jewelry and other gold items), cobblers (shoes), wheelwrights (wooden wheels), and others.
Craftspersons are not as prominent (important; well-known) today as they used to be. Many of their jobs have been eliminated (made unnecessary) by manufacturing and other technologies. In fact, some believe that craftspersons are a dying breed, a group of people that is slowly disappearing. But Sam Zygmuntovich is evidence (a sign that something is true) that we can still find them.
The most famous violins are those that were made during the late 17th and 18th centuries (late 1600s-1700s) by Italian masters like Antonio Stradivari. His violins are so respected that the name "Stradivarius" is often used to identify the best of anything. As you would expect, Stradivarius violins are very expensive. The cheapest (lowest price) Stradivarius violins cost hundreds of thousands of dollars, and in 2011 one was sold for almost 16 million dollars to help victims of the Japanese earthquake and tsunami.
Sam Zygmuntovich has become one of the most sought-after (wanted but hard to get) violin makers in the world. He has made violins for well-known musicians like Isaac Stern, Joshua Bell, Cho-Ling Lin, and Maxim Vengerov. He has a long waiting list (people who have asked for something but have to wait to get it). Zygmuntovich admits (says it's true) that he can't compete with (compare with) the Stradivarius name, but he is confident (sure) that he can make violins that satisfy the requirements of professional violinists.
Zygmuntovich learned violin-making at the Violin Making School of America, where he studied with Peter Prier who was trained in Europe. As a journeyman, he worked at some of the best violin shops in New York, where he had the opportunity to study, restore (make like new), and replicate (make an exact copy) great violins.
Sam is the subject of a book, The Violin Maker: Finding a Centuries-Old Tradition in a Brooklyn Workshop, and several short videos: The Violin Maker (excellent!) and The New Science of Violin Making.
Craftspersons are certainly not a dying breed! What kind of craftspersons do you have where you live? Do you know any?
~ Warren Ediger – creator of Successful English, where you'll find clear explanations and practical suggestions for better English.
Photo used under Creative Commons license.