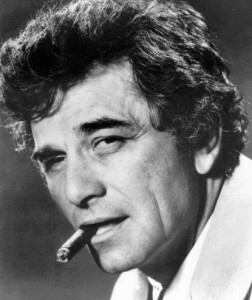 The television detective has been a part of TV history nearly from its earliest days. Cops (police officers) and private eyes (private detectives) used to be the most common type of TV detectives, but anyone can be a detective on television: attorneys (lawyers), doctors, and even mystery novelists (book writers).  With so many TV detectives, can you pick a favorite?
My favorite American TV detective is perhaps an unusual choice.  This detective was most popular in the 1970's, and I watched most of the shows in reruns (a later showing of the same episode) many years later. He is a cop, but not an obvious choice for a hero (someone who is brave, whose actions help people, and is admired by others).  His name is Columbo.
Lieutenant (one of the ranks (levels) in the police force below captain) Columbo is a detective with the Los Angeles Police Department.  He is not young, not good-looking, and he's always rumpled (looking messy and wrinkled, like he just got out of bed).  But don't let appearances fool you (trick you).  Columbo has the mind of a steel trap (can think quickly, clearly, and intelligently).  It is precisely (exactly) because his appearance (the way he looks) and his manner (way he behaves) are so unassuming (modest; humble) that the murderer often underestimates him (believes he is less able, skilled, intelligent, etc., than he is).  With persistence (not giving up; continuing to try even when the situation is difficult), Columbo always gets his man — or woman (finds the criminal).
Peter Falk was the actor who played (acted in the role as) Lieutenant Columbo and he died in 2011. He acted in many films and was twice nominated (named as a possible winner) for an Academy Award, but he was best known for his role as Columbo.  Columbo was on the air from 1971 to 1978, and then returned occasionally (from time to time) between 1989 and 2003 in TV movies.
Do you watch TV detective shows?  Who is your favorite TV detective of all time?  What makes him or her such a good detective?
~ Lucy
Photo Credit: Peter Falk Columbo from Wikipedia