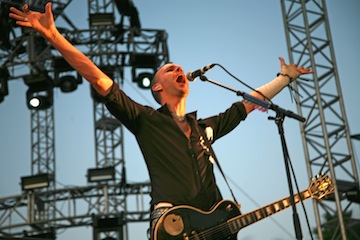 For two weekends every April, the town of Indio in the Coachella Valley (a low area of land between hills or mountains) becomes a happening (fashionable, popular) place. More than 75,000 will flock (go in large numbers) to Indio each Friday evening. And many won't leave until Sunday night.
The Coachella Valley hides between the San Jacinto/Santa Rosa Mountains and Little San Bernardino Mountains about 80 miles inland (away from the Pacific Ocean) in southern California. At the north end of the valley you'll see golf courses, tennis courts, and retirees (people who have retired from full-time work) in the cities of Palm Springs and Palm Desert. At the opposite end, near the U.S. border with Mexico, you'll find the Salton Sea, which is about 225 feet (69 meters) lower than the Pacific Ocean.
Since 1993, when the rock band (musical group) Pearl Jam performed in front of almost 25,000 fans (people who like something very much), the Coachella Valley Music Festival (an organized series of concerts) has been drawing (attracting) performers and fans from around the world. It's become one of the largest and most important festivals in the U.S. It's so popular that the first weekend sold out (all the tickets were sold) in less than one hour. The tickets for both weekends disappeared in less than three hours.
Music at Coachella is non-stop (it's happening all the time). Music fans can choose from five stages (raised areas that bands perform on) and a dance tent with DJs (people who play recorded music for dancing). Many Festival-goers camp (sleep in tents or recreational vehicles) in a field next to the Festival site (location).
Festivals like Coachella are becoming more and more important in the world of popular music. Because of the Internet, it's difficult for musicians to make money selling their recordings. A writer on The Atlantic Cities website explains that many bands sell their songs online (on the Internet) but don't make a profit (money you earn after paying expenses). So they tour (travel and give concerts) to develop a following (group of fans, supporters) and try to get noticed by (attract attention of) major labels (companies that make and sell recordings).
Festivals are an important part of this process. If groups and musicians do well at a festival like Coachella, they will be noticed by major labels and other tastemakers (someone who decides or influences what will become popular). The result could easily be a recording contract (agreement), greater popularity, and more money.
The 2012 Coachella lineup (list of performers) has a few surprises. If we measure the number of acts (groups of performers) for every one-million people in a city, Stockholm, Sweden, has the largest number of acts at the Festival, followed by Austin, Texas (U.S.). London and Los Angeles are near the top of the list. And cities like Portland, Oregon (U.S.), Manchester, England, and Toronto and Montreal, Canada, are in the top ten. This year more than half of the acts come from outside the U.S.
Headliners (main performers) at this year's Festival include Radiohead, The Black Keys, Snoop Dogg, Dr. Dre, Squeeze, and well-known reggae performer Jimmy Cliff. If you'd like to see a list of past performers, you can visit the Festival Wikipedia page.
This year's Festival began last weekend – April 13-15 – and will conclude (end) this weekend. If you'd like to learn more about it, try a Google news search using "Coachella" and "2012".
~ Warren Ediger – creator of Successful English, where you can find practical suggestions for better English.
Photo by Flickr user Mick O.