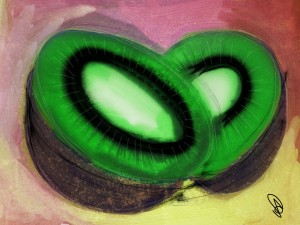 I've recently started reading a book by English historian Paul Johnson called Art: A New History. I confess (tell you a secret) that I don't know very much about art, although I took a class in art history when I was in college in the Pleistocene era. One of the things that fascinates about Johnson's book is his exploration of (discussion; investigation into) the ways in which people have made art across the centuries (over many hundreds of years). The Ancient Egyptians, for example, mastered (became experts at) the cutting of stone to make complex, highly ordered (following a pattern) art. The hieroglyph for "art" in Ancient Egyptian was in fact a borer, a tool used to make a hole into a piece of stone.
If we jump (move) ahead five thousands years, to our century, we find artists continuing to use new techniques and tools, some of which are barely (just) a few years old. One of these new tools is the computer, specifically the tablet computer, such as an iPad. Like a piece of stone or paper, the iPad can be used to make art, some of it quite amazing and beautiful.
Here at ESL Podcast, our very own webmaster (person who sets up and runs a website), Adriano Galeno, is one of those who has begun to use the iPad to make art. His work, all created on the iPad, has recently appeared on the cover (front) of a Canadian magazine, and has drawn the attention (received the notice) of people from all around the world.
Take a look at Adriano's wonderful artwork on his website here. More of his amazing work can be seen on Flickr as well.
Congratulations, Adriano, on your creative and beautiful art!
~Jeff
P.S. Click on the picture in this post to see a larger, even more impressive version of it.
Art credit: Kiwi by Adriano Galeno, used with permission