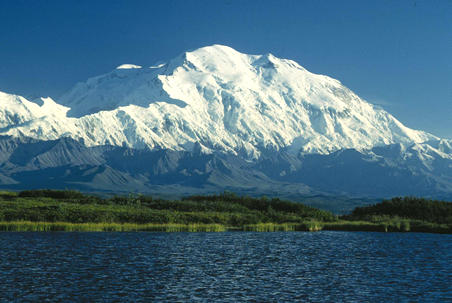 According to Kim Tingley, a freelance (self-employed) writer, Danali National Park, in Alaska in the U.S., "should be a haven (safe place) for natural sound." But apparently it isn't.
The park is made up of "enormous (very large) stretches (areas) of wild country" that cover 9,942 square miles (24,585 square kilometers) and includes 20,320 foot high (6,194 meters) Mt. McKinley, the highest mountain in North America. Only "one dead-end (no way out at the end) and mostly unpaved (no smooth, hard surface) road penetrates (enters) the park." But in spite of its size (even though it's large), it's not as quiet as you might think.
Since scientists began recording and monitoring (listening to see how it changes) sound in Denali in 2006, there have been only 36 complete days without the sound of some kind of man-made (made by humans) sound. Airplanes are the most common. On one day, a single (one) monitoring station recorded the sounds of 78 different airplanes. Other stations have recorded as many as one man-made sound every 17 minutes.
Tingley writes that "humans have … altered (changed) the acoustics (sound) of the entire globe (world)." And many of the changes are permanent (will last forever). Scientists have learned enough about the effects of man-made noise (unexpected, unwanted sound) to know that it is affecting the lives of many animals, just like climate change and urbanization (growth of cities) have done.
Noise is not a new problem. In a very old legend (traditional story), according to Tingley, the gods complained that they couldn't sleep because of human noise. The Roman writer Juvenal complained about the same thing in 200 A.D. In the 1200s, some cities began to make laws to try to control noise, and in 1972, the U.S. Environmental Protection Agency declared (stated officially) that noise is a pollutant (makes the environment dangerous).
Scientists have begun to create soundscapes – sound pictures made up of recorded animal and nature sounds, like wind and running (moving) water, as well as man-made sounds. They will use the soundscapes to try to identify healthy and unhealthy areas. Tingley's article describes their attempts to do this in Denali. It includes some of the natural sounds scientists have recorded there.
Scientists hope to find and protect areas where it's possible to hear and enjoy natural sounds. They hope that future visitors to these areas will have the same experience a fourth-grader did on a field trip to the National Wildlife Refuge (a safe place for wild animals) in Northern Virginia last year. When he got home he wrote: "the best thing about this place is that it has such nice noises that you don't feel alone when you are alone."
One of my favorite winter memories is driving up to a trail (rough path in the forest) near the railroad tunnel (a passage cut into a mountain) under Rollins Pass, high in the Rocky Mountains of Colorado in the U.S. When we got there, we'd clip into (attach) our cross-country (Nordic) skis, put on a small backpack with sandwiches, snacks, and hot chocolate, and make our way up the side of the mountain. The only sounds we heard were the hissing (sound like "ssssss") of the skis and our own heavy breathing as we worked our way up the trail. Around noon we'd stop at a small mountain meadow, take off our skis, and sit down on the sunny side of an old deserted cabin. As we ate our sandwiches and drank our hot chocolate, the only sounds we heard when we weren't talking were the wind whispering (speaking softly) in the trees and the quiet bubbling (sound of water on small rocks) of a small stream as it fell down the side of the mountain. I wonder if it's still that quiet there today. I hope so.
~ Warren Ediger – creator of Successful English, where you'll find clear explanations and practical suggestions for better English.
Photo of Mt. McKinley courtesy of Wikipedia Commons