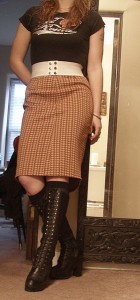 Is the economy getting better or worse? Many Americans are still trying to figure out (determine) the answer to that question. We don't know if our economy is recovering (getting better) yet from one of the worst economic downturns (recessions; declines) in the past 50 years. What happens in the next few months could help determine who our next president will be (a good economy favors (is a good thing for) President Obama, a bad economy is good for his opponent (person running against him)).
An indicator is a measure of change, whether something is getting bigger or smaller, better or worse. A leading indicator is usually something that changes before the larger thing you're interested in changes. For example, if you are interested in whether it will rain or not today, a leading indicator might be a lot of dark clouds in the morning. (The opposite of a leading indicator is a lagging indicator, which changes after the main thing has changed.)  For the economy, there are also leading indicators, such as the price of stocks (partial ownership in a company). Stock prices typically go up before the rest of the economy improves.
Some people have come up with (invented) other indicators of the health of the economy which are less scientific but still may be true. I wrote about some of these a few years ago here, but I found a few more recently I thought I would mention to you. The classic (the best or most typical) example of this is the length of women's skirts, sometimes called the Hemline Index (a hemline is the bottom of the dress), invented by economist George Taylor back in 1926. When the economy is bad, Taylor observed (reported; said), women wear longer dresses, and when it is good, shorter ones. The reason may be that when the economy is about to get worse, people are anxious and fearful, causing them to dress more conservatively.
Here are a couple of other odd (unusual; strange) economic indicators people have invented:
Second Street Tunnel Index – If you travel down Second Street in downtown Los Angeles, you will go through a tunnel (long hole in a hill or mountain for cars or trains) that is very popular for making television commercials (ads) for cars. When there are a lot of production (movie- or commercial-making) companies that want to use the tunnel for filming (making the commercial), the economy is getting better. (This index or indicator was invented by the Los Angeles Times newspaper.)
Hot Waitress Index – One writer claims (says is true) that when the economy is getting worse, there are more beautiful, "hot" (sexually attractive) women working as waitresses in restaurants and bars. His theory (of course, it's a man!) is that when the economy is doing well, attractive women who may not have a lot of other skills or education can more easily get jobs in sales, since companies that sell things like to have attractive women working for them. This may including selling houses or condos, beer, cars, even drugs to doctors (some say drug companies often hire attractive young women to sell to doctors, who are still mostly men). When the economy is poor, these beautiful but perhaps untalented (without other skills or abilities) women work in more demanding (diffiult) jobs like waitressing, where their beauty is still a benefit.
Big Mac Index – The Economist magazine tracks (follows; watches) the price of McDonald's Big Mac hamburgers (available in 120 countries) to compare the relative purchasing (buying) power of different currencies (types of money, like the dollar, the euro, the yen, the yuan, etc.).
Do you know of any economic indicators like these? Do you think the world's economy is getting better or worse?
~Jeff
Photo credit: Pencil skirt, Wikipedia CC