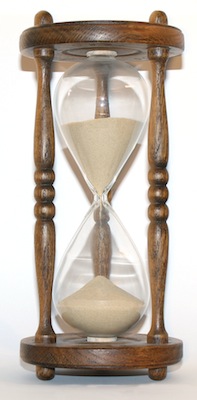 "C'mon (come on), it's time to go. We're gonna (going to) be late."
"Just a second (wait a short time), I can't find my keys."
"Just a second" is a common time phrase. It's also the title of an interesting new children's book by Steve Jenkins. The book's full title is Just a Second: A Different Way to Look at Time.
The second is interesting, Jenkins writes, because it "doesn't relate to (isn't connected to) any cycle (something that continues to happen) in nature – it's a human invention (created by humans), and the shortest interval (unit or period) of time most of us use in our daily lives. The Babylonians came up with the idea of the second about 4,000 years ago, but they had no way to measure such a short interval of time."
Maybe the Babylonians couldn't come up with (think of) a way to measure a second, but Jenkins has. He's done it by filling this fun little book with examples of things that happen in one second. Here are some of them:
In one second, "a meteor (rock from space) entering Earth's atmosphere (air around the earth) can travel 44 miles (71 kilometers), a human can blink (shut and open eyes) seven times, a humpback whale's song travels 5,085 feet (1,500 meters) through water, and light travels 186,000 miles (300,000 kilometers)."
In one second, "a hummingbird beats (move together and apart) its wings 50 times, a bumblebee beats its wings 200 times, a midge, a kind of gnat (very small flying insect), beats its wings 1,000 times, a woodpecker hammers (hits hard) a tree trunk with its beak (hard pointed nose) 20 times, and a rattlesnake shakes its tail in warning (sign of danger) 60 times."
In one second, "a cheetah sprinting (running a short distance) flat out (as fast as possible) and a sailfish swimming at top (highest; fastest) speed both travel 100 feet (30 meters), a dragonfly cruises (flies casually) 50 feet, a very fast human can run 39 feet (12 meters), and a black mamba snake slithers (slides over a surface by moving back and forth) a frightening 24 feet (7 meters)."
In one second, "the Apollo 10 spacecraft traveled almost seven miles (11 kilometers) during reentry (when it came back into Earth's atmosphere) – the fastest humans have traveled in a man-made vehicle." In one second, "Earth advances (goes forward) 18.5 miles (30 kilometers) in its orbit (circular path) around the sun, while four babies are born, and two people die."
Sometimes time flies (goes very quickly). But time can also move very slowly. A science blog called It's Okay to Be Smart recently featured (included or showed) an infographic (information picture) about geologic time – the history of the development of the earth. It's what we might call very slow time.
The infographic includes more than three eras (very long periods of history) of earth history, about 4.6-billion years. If you want to compare that to Jenkins' book, that's more than 145,000,000,000,000,000 seconds (if my math is correct)!
What happened during this long period of time? Some scientists believe that at first there was only one continent (large mass of land surrounded by ocean), called Pangea. Later Pangea split (broke or divided) into two parts, north and south. Eventually (after a long time) those two parts split again into the seven continents we have today. And that took only 250-million years – a relatively (compared to the total) short time.
By the way, the title of this blog post contains a little time joke. The blog is about time, so it's a good description, a good title. But we also use "it's about time" another way. If someone is late coming to an appointment or finishing a project, when they finally arrive or finish, we sometimes say (and not too happily), "It's about time!"
And now, it's about (almost) time for me to stop.
If you're interested, you can read more about Just a second at the New York Times or Brain Pickings web sites.
~ Warren Ediger, creator of Succesful English, where you'll find clear explanations and practical suggestions for better English.
The hourglass photo is courtesy of Wikipedia Commons.