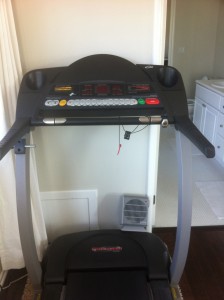 Last week, I talked about five things I was thankful for in the year 2011. With 2012 upon us (here; with us now), it is of course time to make some New Year's resolutions. Here are a few of mine:
1. Exercise more. I discovered recently that, although I wish otherwise (want something else or something different), I am getting a little older every year. My doctor that says the best thing for me to do is more exercise.  I already exercise everyday on a treadmill (a machine for walking), but I could stand to do (could benefit from doing) a little more, especially after all of that pumpkin pie I ate over the holidays.
2. Eat more pumpkin pie. Eating pumpkin pie is one of my favorite things in the world to do. So, hey, if I exercise more, I can eat more pie, right? Of course, if I eat more pie than I do now, I will need to exercise even more, but that just means I can then eat more pie and then…well, you get the idea.
3. Learn something new. I am what my father used to call a "professional student" – I was in school for so many years that it seemed as though that was my "career." But the truth is I really do enjoy going to school and learning something new. Last year I took a couple of classes at my local community college, and I had a lot of fun, even though I was by far (easily) the oldest person in the class. I plan to do that again this year.
4. Spend less time watching television. It is too easy to sit down and spend half of your evening watching the silly programs that are on the TV. That time can be better spent talking to my wife and my family, reading a good book, or eating pumpkin pie.
5. Suffer fools (more) gladly. Fools are people who are do things we think are stupid or who might annoy (bother) us with their silly actions. To suffer usually means to undergo (experience) pain, but it can also mean to tolerate, to put up with someone. Gladly means happily.  There is an old expression that we should learn to suffer fools gladly, meaning that we should be more patient and kind to those whose behavior (actions) we don't like, who are foolish, or who bother us in some way. I think we can all afford to do (are able to; will benefit from) that. We can make the world around us just a little bit nicer by being nicer ourselves.
What are five things you want to do more of, less of, or differently in 2012?
~Jeff
Photo credit: Treadmill by McQuillan