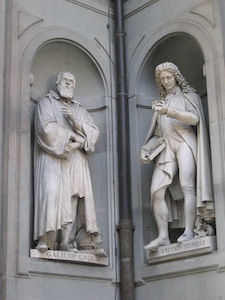 This is the last week of the year – the week between Christmas and New Years, between December 25th and January 1st..  This week many of the articles you read and television programs you see will fall into (belong to) two different categories (groups).
Articles and programs in the first category look back (to an earlier time) and reflect on (think carefully about) the previous year (the year before). Articles like this often try to identify important ideas, products, or people from the previous year. Sometimes they suggest lessons that we can learn from what happened during the last year. Jeff's last blog post – Top 5 Memories of 2011 – falls into this category.
The second kind of article or program looks ahead (to a future time) to the next year and suggests resolutions (promises we make to our selves) – promises to be better, do more, eat less, or try something new. Some people jokingly (trying to be funny) insist (to say something strongly) that resolutions are made to be broken (not kept).
A few days ago I was intrigued (made curious) by a reflective article I saw called The Price of Greatness. To be more precise (accurate), I was intrigued by the title (name) of the article.
It's easy to understand how the writer, Mark Sigal, is using the word "price." He doesn't mean the amount of money you have to pay to become great. I'm pretty sure (certain) he doesn't believe that  money can buy greatness. No, when Sigal uses the word "price," he means the time, effort (work), sacrifice (deciding not to have something so you can get something more important), and all the other things that are required (necessary) to be great. Greatness is not cheap (not expensive)! It always has a cost.
Mostly I was curious about how Sigal used the word "greatness." I wondered (asked myself), "What is his idea of a great person?"
What do we usually mean when we say someone is great? Does it simply (only) mean that they are above average – being better in some way than most other people? Or does it mean that they have been very successful, based on (determined by) how much money they have or how popular or powerful they are?
As I read Sigal's article, it became apparent (clear) that he was using "great" in a unique (special or certain) way. In his mind, a great person is someone who does something significant – something that is important because of how it will influence or affect people in the future. In other words, greatness is the ability to benefit (improve the lives of) other people many years into the future. I like this definition.
This idea of greatness is not new. In fact, it's very similar to the idea of wisdom that you find in some ancient (very old) poetry. There, a wise person is often someone who creates long-lasting value, or benefit, for other people. If we think this way, a great or wise person could be almost anyone. It doesn't have to be someone who is rich or famous. In fact, it could be you or me.
~ Warren Ediger – creator of Successful English.
Photo by W. Ediger.