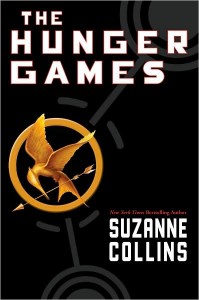 In recent years, several young adult or teen novels have made the crossover (crossed the boundary; become popular in more than one category) from popularity with just teens to popularity with adults. Perhaps the most notable (worthy of attention) example is the Harry Potter books. Although written primarily (mainly) for children and teens, the books have become bestsellers among adults as well.  The same can be said (the same thing is true) of Twilight, a series written for adolescents or young adults.
Another adolescent series is about to join these popular teen favorites:  The Hunger Games trilogy (a set of three books telling a continuing story).  The Hunger Games books are written in the genre (category of books) of science fiction and is set (takes place) in the future, where present-day life on Earth has been destroyed, but a new population has emerged (come to life), ruled by a repressive (very controlling and strict) government.  The three books in the series feature (have as its main character) a teenage girl, who reluctantly (does not want to) participates in the annual (done each year) Hunger Games, a tournament where teenagers from every district or area fight to the death, with only one teenager left alive, who is crowned (officially given the title of) the champion or winner.  These Hunger Games  become much more than a just a competition; it is the catalyst (something that starts an important event) that begins a revolution (an attempt to remove the government).
The Hunger Games books have consistently (without change) been on the bestseller list in the U.S. for many weeks, and the series is about to do what the Harry Potter and Twilight series have done:  Make the leap (large jump) to the big screen (into the movies). The first Hunger Games movie is set (scheduled) to be released in March of 2012 in the U.S.  If you want to get a jump on (be ahead of) the movie, there's still time to read the first book in the series before the movie release.  I just finished the trilogy and highly recommend it.  It is well-written and has the complexity (with many elements; complications) that would appeal to an adult.  They're the type of books that are hard to put down once you've started reading them because the plot (storyline) and the characters (people in stories) are so compelling (interesting and easily keeps your attention).
So if you like good adventure stories, you might like The Hunger Games by Suzanne Collins. (The second book is called Catching Fire and the third book is called Mockingjay.)  If you like adventure movies, look for the movie in theaters early next year.  Hopefully, the movie will do the book justice (reflect the high quality of the books).
~ Lucy
Art Credit: "Hunger games" from Wikipedia