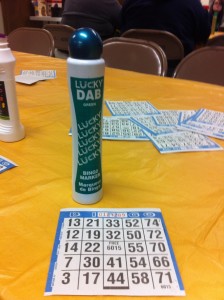 Many countries have a tradition of the harvest festival, a point we mentioned recently on ESL Podcast 723. Harvest refers to the food you take out of the fields (places where food grows) to sell or eat.  A festival is a celebration, usually with a large group of people. I grew up in the great state of Minnesota, where agriculture (the growing of food) is an important part of the economy.  Each autumn (fall), local community and church organizations sponsor a small celebration (usually called a fall festival), even when no one in the organization is actually a farmer or has a field! Fall festivals are fundraisers for the school, church, or community group. Fundraisers are special events that where a group raises (collects; gets) funds (money) for their group.
I was visiting Minnesota recently and attended the fall festival held by my old high school in Saint Paul, located in what was once a German American part of the city called Frogtown.  I thought I would share some of the activities that you might typically find at one of these very Midwestern events. In Part 1 of this post, we'll talk about the games and fun activities.  In Part 2, we'll discuss the kind of food you can eat at a Minnesota fall festival.
Typical at a fall festival (at least in Catholic schools such as the one I attended) is playing a game of chance (luck) called Bingo, a game I discussed in an earlier blog post. The Bingo game I went to at the fall festival was a little different, however. Notice in the photo that they make special bottles of ink to mark your cards. These are used instead of chips (small pieces of paper or plastic) to mark the squares on the card. Of course, this means you need a new, clean paper Bingo card for each game.  Each card costs 25 or 50 cents, and the winner gets a small prize.  I played one game where the prize was a mug (a large glass for drinking beer).  I lost.
Another game of chance is called the Cherry Tree. Several dozen small gifts are put out on display (so people can see them) with numbers next to them (see photo).  You pay $1.00 to get five stapled pieces of paper.  Some of the pieces of paper have a number on them, which matches (is the same as) one of the prize numbers.  If you get that number, you win that prize.  I bought 5 tickets at the festival.  I lost.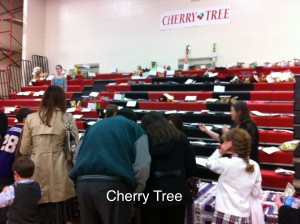 My favorite game at a fall festival is the Cake Walk. All of the prizes in this game are – you guessed it – cakes! There are 10 numbers on the floor, arranged (placed) in a circle. One person stands on each number (it costs $1.00 to play).  Music plays and you begin to walk around the circle, stepping from number to number. When the music stops, you stop on the nearest number. Then one of the players picks a number from one to ten from a basket or hat. The person standing on that number wins the cake.  Every game has a winner, and of course there is no skill (knowledge or special expertise) needed to play.  (You can even describe some action in English as being a "cake walk," which means it is very easy to do). I played the Cake Walk once at the festival (see photo).  I lost.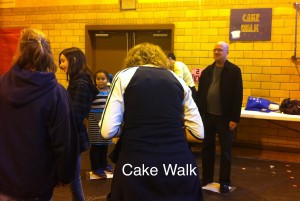 Enough of me losing! In the next post, I'll talk about something I did get at the festival – food.
~Jeff
Photo credits: Jeff McQuillan