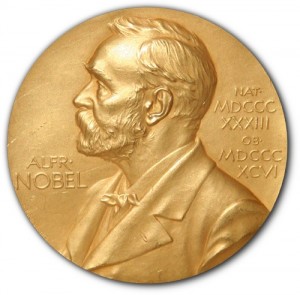 The Nobel Prizes are among the most prestigious (highly respected or honored) awards given to people who have accomplished something great in their field (area of work or study). Yesterday the Nobel Committee awarded the 2011 Nobel Prize in Economics to two American professors, Thomas Sargent and Christopher Sims.  Both are 68 years old, both studied at Harvard University, and both helped me decide not to study economics thirty years ago.
In 1981, I was a freshman (first-year college student) at the University of Minnesota.  My declared (official or stated) major (main area of study) was economics.  I had read several books on economics in high school, and had hoped to study at the University of Chicago, famous for its economics department. But I didn't have enough money to attend (study) there, so I went to what everyone in Minnesota simply calls "the U" (the University of Minnesota).  The U also had a very good economics department, headed by (led by) one of the chief economists for President John F. Kennedy (who is the topic of this week's English Cafe), Walter Heller. But there were also a pair of young professors in the department who had some new ideas about economics, and especially the role (function; use) of statistics (mathematical approach to studying information or data) in studying economic behavior (the way people act).  Their names were Sargent and Sims.
Sims in particular wrote a famous paper (scientific article) the year before I arrived at the U on something called "vector autoregression," an advanced statistical tool he thought would help economists better understand the way people reacted to economic policy in the "real world." (Don't ask me to explain it, because I can't!) One of the teaching assistants (graduate students who help the professor grade papers and lead discussions) for my class explained to me that these complex statistical approaches were the future of economics. Well, I didn't know much about statistics, didn't really like math very much, and believed that the human behavior that economics is supposed to explain could not be reduced to (simplified to) a few numbers.  So I quickly decided I would change my major (major in something else).  There ended my brief career as an economist.
It wasn't until years later that I discovered I liked statistical analysis, and began using it in my own research.  By then, however, I was already in the area of second language acquisition, and Professors Sargent and Sims had left the U for other places (Sargent is currently at New York University and Sims at Harvard).  Now they have both won a Nobel Prize for their work.  I congratulate them on their achievement, and thank them for changing my mind about studying economics.  If they had not done so, I wouldn't be working here at ESL Podcast, which I love more than any job I've ever had.
~Jeff
Photo credit: Nobel Prize Medal, Wikipedia PD