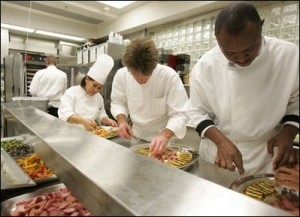 I am a terrible cook. If I tell you I'm going to cook dinner for you, run the other way. You have been warned (told about the danger).
When I was growing up, my mother did all of the cooking in our house.  Her children's job, according to my mother, was to study and practice, and hers was to feed us.  I thought that that was a great arrangement (plan) until I left home.  Then, I really learned to appreciate my mother, especially when I had to fend for myself (take care of myself).
To this day, I still don't know how to cook very well.  Although I plan most things in my life, when it comes to cooking, I like to fly by the seat of my pants (do something without planning) and to cook something by instinct (acting according to what feels right or natural to me).  That means I'm not very good at following recipes (instructions for cooking a dish).  Since I have so little experience, you can probably imagine how well that usually turns out (results).
Despite my bumbling (behaving awkwardly and without skill) in the kitchen, one of my favorite TV shows these past couple of years is Top Chef.  This is a cooking competition reality show (show with real people, instead of actors) where some of the best chefs (professional cooks) in the country are selected to compete in cooking challenges (games; competitions) on each episode.
I'm very surprised that I like watching this show.  I don't like traditional cooking shows where a chef shows you how to cook a dish step-by-step.  I suppose I don't actually want to learn to cook a dish.  Instead, I enjoy seeing people who are at the top of their game (among the best in a field of work, study, or play) being creative and having to do so under the gun (on a deadline; with limited time).
Are you a good cook?  Do you like watching cooking shows or cooking competition shows?
~ Lucy
* "Food for thought" is something, such as an issue or idea, that is given to someone for him or her to think about.  For example:
"Learning about different careers is good food for thought for students entering the university."
"Seeing so many stories on the TV news about the dangers of house fires was food for thought.  I now think we should do more to protect our home."
Photo Credit:  White House Chefs – From Wikipedia