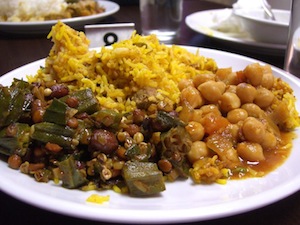 It's here! The 2012 presidential campaign has begun. The big battle is shaping up (developing) – Democrats versus (against) Republicans, liberals* versus conservatives*, President Obama versus … who knows?
For the next 14 months – from now until November 2012 – we're going to be flooded with (receive a lot) more political advertisements, political speeches, political debates, and political news stories than you can imagine! And dinner or coffee with friends will usually be served with (include) talk about politics.
To be honest (tell the truth), I get tired of all the political noise – the advertisements, the speeches, the debates, the news stories, and endless conversations. But what can I do about it?
I found an answer to my question at hunch.com. According to Hunch, liberals and conservatives eat differently. Or, as they put (wrote; said) it: "You vote what you eat." If that's true, we don't need to discuss politics. We can find out what we want to know about someone's political beliefs by checking out (looking at) what they eat!
The people at Hunch asked about 2,000 readers how they described themselves politically – whether they were liberal or conservative or somewhere in the middle. And then they asked them about their food preferences (what kind of food they would choose) and attitudes toward different foods.
Here are a few things you'll learn about liberal and conservative eating habits (something you do regularly) and attitudes if you look at the Hunch study:
Liberals are more likely to (will probably) order a meal of curry chicken from India with vegetable biryani (a rice dish), orange wedge (slice), and glass of Pinot Noir wine; conservatives will order meatloaf with green beans, mashed potatoes and gravy (thick brown sauce), and a can of soda.
Liberals are more likely to prefer (choose) fresh vegetables; conservatives like their vegetables cooked.
Liberals are more likely to eat seafood than conservatives.
Liberals are more likely to prefer crunchy (hard and make a noise when you bite it) tacos (a Mexican food); conservatives like soft tacos.
Liberals prefer thin-crust (the baked outer part of a pie or pizza) pizza; conservatives prefer deep dish or thicker crust pizza.
Liberals prefer strawberry jam on their peanut butter and jelly sandwiches; conservatives prefer grape jelly.
Liberals are more likely to drink wine with dinner at home; conservatives are more likely to drink milk, soda, or fruit juice.
Liberals are more likely to never or rarely eat fast food (like McDonalds); conservatives are likely to eat fast food a few times per week.
There you have it (there it is): if you know someone's food preferences and attitudes, you can tell a lot about their political beliefs. You don't even have to ask, if you don't want to. Just watch them eat. That has to (must) be better than all that political noise!
I hope you realize that much of this has been tongue-in-cheek (meant to be humorous; not serious). Responsible citizens – including me – will listen and think about and discuss politics, even if it seems noisy at times (occasionally).
_____
*Note: it's difficult to explain the differences between liberals and conservatives in a few words. Here are two very simple descriptions from what Wikipedia says about them:
Liberals, mostly Democrats, like the federal (U.S.) government to be larger and more involved (active) in American life, even if it means paying higher taxes. Franklin D. Roosevelt and John F. Kennedy were liberal presidents.
Conservatives, mostly Republicans, want less government involvement and lower taxes. They emphasize personal and local responsibility. Ronald Reagan was a conservative president.
A study done last month reveals (shows) that 41% of Americans call themselves conservative, 36% moderate (in the middle), and 21% liberal. For more on political parties in the U.S., listen to English Cafe 26.
_____
~ Warren Ediger, creator of Successful English, where you'll find clear explanations and practical suggestions for better English.
 Photo of lamb biryani used under Creative Commons license.