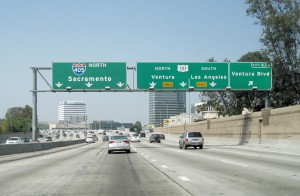 Every city and region (part of a state or country) has its own culture, its own set of customs, beliefs, and unwritten rules. I will soon complete my 20th year here in Los Angeles, and in honor of (to celebrate or mark the event), I thought I would share with you some of the local customs and unwritten rules that make one an Angelino (resident of Los Angeles).  Lucy has already covered the first and most important of these unwritten rules: Never pay too much attention to celebrities.  If you see one, stay calm and pretend not to notice.  I'll add a few more in this and in upcoming (future) posts, adapting (changing) a few ideas that a local reporter shared recently in the Los Angeles Times.
Here's today's rule: Know your shortcuts.  Los Angeles is infamous (well-known or famous, but in a bad sense) for its traffic (too many cars on the roads).  If you take only the main drags (primary or busiest streets), it could take you hours to reach your destination (where you are going).  When I first moved here, a friend recommended I buy a book describing the best shortcuts (the fastest routes or ways to get somewhere).  (Yes, there was a whole book of them!)  So I bought it, and was I glad I did (I was very happy that I did).  The book (I still have it somewhere) describes a few dozen ways to get from one part of the city to the other, using side streets (roads that are not main drags) to avoid traffic.  Even after 20 years, many of these shortcuts I learned when I first arrived here still save me time when driving.
Angelinos even talk about their best shortcuts to friends and family members.  My brother-in-law, who's lived in Southern California since he was a child, has lots of these shortcuts.  We tell other Angelinos we know about them, but are careful not to tell too many people.  If we did, the shortcuts would themselves become popular and no longer be shortcuts!
Are shortcuts important where you live? What are some of the unwritten rules of your city?
~Jeff
Photo credit: San Diego Freeway, Wikipedia CC