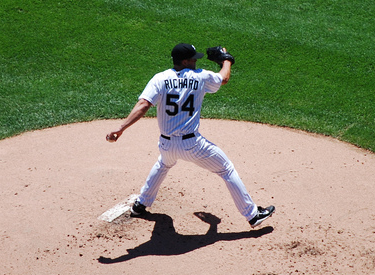 When I saw Angry Birds in the Field of Dreams, I chuckled (laughed quietly) to myself, thinking that Jeff had come up with a clever (unusual, interesting) title for something that had happened in a baseball game earlier that week. Well, it was a clever title, but about something else. That means I get to tell the "other" story about anger on the field of dreams (in baseball)!
Let me start with a little Sociology 101 (an introductory class in college often has the number 101). Beginning sociology students are usually introduced to norms – rules that identify behaviors (actions) that are acceptable or required in different situations. Norms tell us how to act when we're together with other people. But norms are rarely written; they're learned by experience and example as we live with a group of people. They're what we call rules of thumb (general ideas from experience) for how to act with other people.
Let me give you a couple of (two) examples of norms. When you get into an elevator, you're expected to turn around and face (look toward) the door, away from the other people in the elevator. If you walk into the elevator and face the people, we'd say that you had "violated (disobeyed) the norm." You didn't do what you were supposed to do in that situation. Here's another example: in the U.S., you are expected to look at someone when you talk with them. If you look down or somewhere else, we'd consider you (think that you are) impolite.
Back to the field of dreams. You don't need to know all about baseball to follow the story, but if you'd like to learn more about it, the Wikipedia baseball article is pretty good: read the first paragraph, then go down to the part called Rules and gameplay. And this article, What is Baseball, is helpful, too.
A couple of weeks ago the Anaheim Angels played the Detroit Tigers. The game featured (included as a special part) two of the best pitchers (players who throw the ball to players, called batters, who try to hit it) in baseball. Everyone expected the game to be a duel (contest or competition) between two pitchers who throw the ball so well that most batters have trouble hitting it. Many of us expected a low-scoring game, maybe even 1-0.
In baseball, one of the most exciting plays (actions) is the home run. A home run happens when a batter hits the ball so hard that it goes over the fence and out of the baseball park. When a batter hits a home run, he's expected to drop his bat and run around the field, being sure to step on each of the four bases.
Near the beginning of the game, Magglio Ordonez from Detroit hit a home run. While he was running around the bases, Angel pitcher Jared Weaver shouted at him because he thought Ordonez wasn't running fast enough. Bad mistake! Weaver broke (didn't obey) the unwritten rule that says you have to show respect for the other teams' players. He would argue (say), of course, that Ordonez' slow running didn't show him respect. If that's true, Ordonez broke the same rule.
Weaver's shouting at Ordonez angered Carlos Guillen, another Detroit player. So, when Guillen hit a home run later in the game, he stood and watched the ball for a while, then danced slowly for a few steps toward first base, looking at Weaver the entire time, before he ran around the bases. More disrespect! Another bad mistake!
One of the unwritten rules in baseball says that if a player does something bad to you, you have to retaliate, you have to do something bad to him or to one of his teammates, and that's exactly what Weaver did: he threw the ball at the head of the next Detroit batter. Fortunately he missed, but he was ejected from (thrown out of) the game and has been suspended from (prohibited from playing in) six games. The suspension is bad news for the Angels, who are trying to get into the playoffs (the competition at the end of the regular season): Weaver is their best pitcher and they need him to play.
Every sport seems to have its unwritten rules. I've seen them in American football, soccer, baseball, and basketball. And it seems to me, unfortunately, that they often make young men act like little boys. What do you think?
~ Warren Ediger – creator of Successful English, where you can always find clear explanations and practical suggestions for better English.
Photo used courtesy of Wikipedia Commons.