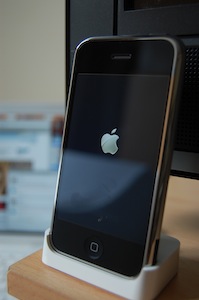 We've just returned from a fun weekend with family and friends near Santa Cruz, California. The occasion (event) was our oldest daughter's wedding in a beautiful setting (location) at a vineyard (where grapes are grown for wine) atop (on top of) a mountain overlooking Santa Cruz and the Pacific Ocean. Our younger daughter said the house at the vineyard reminded her of the house in The Great Gatsby, a well-known book written by F. Scott Fitzgerald in 1925 about the people who lived on Long Island's North Shore and in New York City. (Long Island is an island that includes parts of New York City.)
The bride was beautiful. The mother of the bride (my wife) was beautiful. The setting was beautiful. Even the bear looked good: he was the ring bearer (the one who carried the bride and groom's rings) and he was carried by our four-year-old grandson. The simple wedding ceremony was perfect. The weather was perfect. And the food was the best I've ever had at a wedding! All in all (when you consider everything), it was a great weekend.
One of the things that amused (made me smile) me during the weekend was that electronic gadgets (small, useful machines or tools) popped up (appeared) everywhere! Everywhere I looked I saw iPhones, Blackberries, Androids, iPads, and laptops – not all at the wedding, but in the days before and after. I used my iPhone for my notes when I toasted the bride and groom at the dinner after the wedding. A toast is a call to a group of people – "I'd like to propose (suggest) a toast to the bride and groom" – to raise their glasses and drink together in honor of someone, usually on a special occasion. I wouldn't be surprised to discover that someone had posted pictures of the bride and groom on Facebook before they exited (left) the area where the wedding was performed!
Stephen Abram recently wrote about a Pew Research report that found (discovered) that 90% of Americans own at least one computerized gadget. I know that my wife and I had seven gadgets in our car as we traveled – two laptops (MacBooks, of course!), three iPods, a Blackberry, and an iPhone!
The Pew study reveals (shows) that electronic gadgets have become popular across all generations (groups of people who are the same age). It also found that:
Cell phones are the most popular device (a machine or tool that does a special job). About 85% of all adults own cell phones, and 90% of Americans – including 62% of those 75 and older – live in a home where there is at least one cell phone.
Desktop computers are most popular with adults who are 35-65 (read: 35 to 65) years old. Millennials (the 18-34-year-old generation) are more likely than other generations to have laptops: 70% of them own laptops; only 57% own desktop computers.
Almost half of all adults own iPods or mp3 players. Again, more Millennials own them than anyone else.
Game consoles are popular with adults between the ages of 18 and 46: almost two-thirds of them own a console.
E-book readers and tablets have not been adopted (begun to be used) by a large percentage of the population yet. About 5% of adults own an e-book reader, and 4% own an iPad or other tablet.
The number of adults that do not own any electronic gadgets is very small, only about 9%. As you might expect, many of these people – about 43% – are more than 75 years old.
It was a memorable (worth remembering) weekend! And it was fascinating to watch people of all ages using their gadgets to keep up with (to write, etc., regularly so you don't forget someone) friends, stay in touch with (to talk or write to) family, and share the excitement of the weekend with people around the world!
~ Warren Ediger – creator of Successful English, where you can find clear explanations and practical suggestions for better English.
Photo courtesy of the Wikipedia Commons.