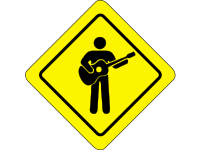 The other street musicians on the 3rd Street Promenade in Santa Monica, California, often call Roger Ridley "the voice of God." Ridley is one of the world's many musicians who come to the Promenade and locations like it around the world where there is a lot of pedestrian traffic (people walking). They stake their claim to a space (say the space belongs to them for a time) and play for donations (money gifts from listeners).
Every Saturday Ridley travels from his home in Las Vegas, Nevada – almost 300 miles – to perform at the Promenade and returns home when he finishes. One Saturday, while walking down the Promenade, Mark Johnson heard Roger singing Stand by Me in the distance and ran to where he could hear better. He was moved (had strong feelings) by Roger's music and decided it needed to be shared with the world. At that moment Playing for Change was born.
Mark Johnson is an award-winning audio producer/engineer (someone who plans and makes music recordings) and film director. He has worked with some of the best musicians and producers in music, film, and television. As the co-founder (person who begins something with someone else) of Playing for Change, Mark has created a technique (method) for recording musicians all around the world in their natural environment (where they live), usually outside, and combining (putting together) the recordings to create Songs Around the World.
Playing for Change, the organization Mark founded, is a "multimedia (sound, video, etc.) movement (group of people with the same ideas) created to inspire (encourage), connect, and bring peace to the world through music." He believes that music can "break down boundaries (things that keep people apart) and overcome distances between people." It has the "power to transcend (go beyond usual limits) and unite us as one human race" in spite of geographic, political, economic, religious, or ideological (philosophical) backgrounds.
In 2007, Mark and his supporters created the Playing for Change Foundation to help the musicians and communities that had shared their music with the rest of the world. Through the support of the foundation, the musicians are "brought together to perform benefit concerts (concerts to make money to help someone) that help build music and art schools in communities" that need help. Thousands of people have been touched (feel happy and thankful) by these concerts and other Playing for Change activities. By them the world is being connected (brought together) through music!
You can experience Playing for Change in several ways. First, you can explore the Playing for Change web site. You can listen to all the music and learn all about the musicians who have helped create it.
The latest Song Around the World is Gimme Shelter (give me protection). It "expresses the urgency (immediate importance) we all face to unite together as a planet with the words 'War, children, it's just a shot away… Love, sister, it's just a kiss away.'"
Gimme Shelter | Playing For Change from Playing For Change on Vimeo.
I'd strongly encourage you to take time to listen to some of the original recordings, especially these:
Like me, I'm sure you'll be moved by the music.
~ Warren Ediger, creator of Successful English, where you can find Something to read during June in addition to clear explanations and practical suggestions for better English.
Playing for Change logo courtesy of the Wikipedia Commons.