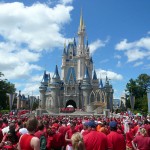 If you visit Disney World in Orlando, Florida, you would expect to see Mickey Mouse, Cinderella, and Daffy Duck. If you visit Disney World the first week of June (May 31 to June 6) this year, you will see something else: A lot of people showing their gay pride.
Gay pride events are public events where gays (men who like men romantically) and lesbians (women who like women romantically) can show their support for those in the gay and lesbian community.  Most often, we see gay-pride parades, which is when people gather and march or walk through the streets together in celebration, often with music and costumes.
The "Gay Days" at Disney World is not an official Disney World event, but Disney World welcomes this one week each year when gays and lesbians gather and bring their families.  You'll know who these participants are because they wear red shirts so others will know who they are.  Last year, about 150,000 people attended this six-day event, which included special pool parties, a film festival, after-hour (after closing time) visits to certain parts of Disney World, special gatherings and events for kids, and more.
The "Gay Days" started in 1991 as just one "Gay Day" with 3,000 gays and lesbians in Florida gathering for the purpose of becoming more visible (easy to see; easy to identify).  For gays and lesbians who had a difficult time in their childhood or adolescence (teenage years; between 13-19 years old), gathering at Disney World is a positive experience and, they say, a way to recapture (experience again) those early years with fun and joy, instead of taunts (remarks made in anger and to make other people react negatively) and being laughed at.  By 1995, about 10,000 traveled to Disney for the day.
Today, the Gay Days span (last) six days at Disney World and rival (is about the same as) in size the famous gay pride parades in New York City and San Francisco.  Several religious groups of Jews and Christians have complained to Disney about Gay Days, asking them to move the event to after-hours only.  But the Gay Days are not officially-sanction (officially approved and supported) by the company.  Gays and lesbians simply show up (arrive) wearing red shirts and enjoy the park along with other visitors.
Are there gay pride events where you live?
~ Lucy
Photo Credit: "Cinderella Castle at Magic Kingdom – Gay Day – 2007" from Wikipedia