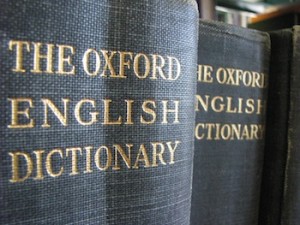 This month the Oxford English Dictionary (OED) added FYI, LOL, and OMG to their online edition. Previously (before now), OED had added IMHO, TMI, BFF, and others to the online dictionary.
These expressions are examples of initialisms, abbreviations that are made up of the first letters of a name or expression. For those of you who may not be familiar with them, here's how the OED defines them:
OMG – "Oh my God" (or sometimes "gosh," "goodness," etc.)
LOL – "Laughing out loud"
FYI – "For your information"
IMHO – "In my humble opinion," sometimes only IMO – "In my opinion"
TMI – "Too much information"
BFF – "Best friends forever"
When we pronounce (say) initialisms, we say the letters: for example, O-M-G or C-E-O (Chief Executive Officer, the top manager of a large company) or F-B-I (Federal Bureau of Investigation).
When we pronounce an initialism as a word, we call it an acronym. AIDS (acquired immune deficiency syndrome), NATO (North Atlantic Treaty Organization), and laser (light amplification by stimulated emission of radiation) are familiar acronyms.
In making the announcement, the OED noted (mentioned something interesting or important) that the intention (goal or purpose) of an initialism is usually to signal (show or express) a very casual (informal) mood or feeling. They have become popular because they are short and easy to type in an e-mail, tweet, or text message. The OED says that these initialisms are used sometimes to parody the way people act and write online. Parody means to copy (repeat) someone or something in a way that makes people laugh. A good example of parody on television is Saturday Night Live, where the actors parody politicians and popular entertainers to make the audience laugh. Sometimes we call this "making fun of" someone or something.
During the process of approving these initialisms, the OED discovered (found) that all three of them have been used for many years, long before the beginning of the Internet. OMG was first used in 1917, during World War I, in a personal letter. FYI originated (began) in 1941, during World War II. And LOL started in 1960, but then it stood for (meant) "little old lady," an elderly (older) woman!
This brings up an interesting point, one that may surprise you. The editors (people who decide what goes into a book) of a dictionary don't determine (decide) the meanings of words. Rather, they report (describe) how the speakers and writers of a language use words. The editors' job is, first, to collect examples of different word uses or meanings and, then, to decide whether or not a word meaning is used often enough to be included in the dictionary. So we could say that a dictionary is a collection of descriptions of how the words of a language are used.
If you are a more advanced reader, you might enjoy the story of how the OED started. It's in a book with the curious (strange or unusual) title The Professor and the Madman: A Tale of Murder, Insanity, and the Making of the Oxford English Dictionary.
~ Warren Ediger – English tutor and coach and creator of Successful English, where English learners find clear explanations and practical suggestions for better English.
Photo by emdot used under Creative Commons license.