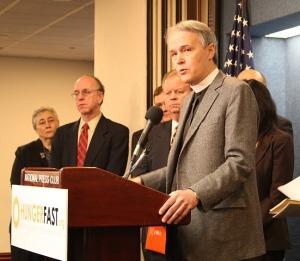 Today I'm going to try another "Headline English" post. First I'll give the background (the overall story or context of the headline), then we'll talk about the specific words in the headline.
Headline: Anti-Hunger Advocates Fast to Protest U.S. Budget Cuts (from Voice of America).
Background:  The United States Congress (our elected national representatives; the House of Representatives and Senate) in Washington, D.C. has been trying to lower (make less) the amount the government spends each year, since the U.S. currently (now) has a very large budget deficit.  A budget is a description of how much you make (income) and how much you spend (expenses). A deficit is when you spend more than you make – usually not a good idea! But in order to reduce the deficit, Congress has to cut (eliminate) some popular programs.  Among the programs being considered for reduction or elimination are those that provide emergency food aid (help; assistance) for victims (people who are hurt by something or someone) of disasters (a bad event which affects many people, such as an earthquakes, floods, and hurricanes).  Some organizations want to stop Congress from making these cuts for people who are hungry.
Behind the Headline: The prefix "anti-" before a word means against or the opposite.  Anti-Hunger means you are against (don't like, don't want) hunger (the condition of being hungry, without enough food to eat).  An advocate is a person who is trying to defend some idea or organization, or who wants to change the political approach to an issue.  To fast means not to eat food on purpose (by choice; voluntarily).  This is sometimes done for religious reasons (Christians, Muslims, and Jews all fast for various occasions), sometimes for health reasons.  But it has also become a way of publicizing (making people know about) some political problem.  To protest means to fight against something in order to change it.  Budget cuts are reductions in the amount of money an organization (like the government) spends.
So anti-hunger groups are trying to stop Congress from reducing the amount the U.S. government spends on helping those who are in need of food during an emergency.
If you live outside the United States, is your government facing (having to deal with; take care of) similar problems of budget deficits?
~Jeff
Photo Credit: Voice of America (Public Domain)