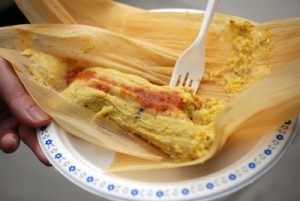 Sometimes help comes from an unexpected source (a thing or person you get something from). Sometimes it's free, and sometimes it changes you forever. This story is adapted (changed to make it easier to read) and shortened from a true story by Justin Horner. You can read the complete, unadapted story in the New York Times Magazine. [Note: Since many of the sentences below are taken directly from the original article, we've put quotes around the entire selection so you know they are (mostly) from Horner's story.]
Here is Justin's story:
"During this past year, I've had car trouble three times, and they all happened while I was driving other people's cars, which for some reason makes it worse.
"Each time, when these things happened, I was disgusted (very upset) with the way people didn't stop to help. People at the gas stations where I asked for a gas can told me that they couldn't loan them to me "for safety reasons," but that I could buy a one-gallon can for $15. It was enough to make me say stuff like 'this country is going to hell in a handbasket (getting worse).'
"But you know who came to my rescue all three times? Immigrants (someone who has moved from another country), Mexican immigrants, and none of them spoke any English.
"One of those guys (men) stopped to help me with a blow-out (when a tire suddenly bursts, like a balloon) even though he had his whole family with him. I was on the side of the road for almost three hours with my friend's big Jeep (a kind of car for traveling over rough ground). I put signs in the windows, big signs that said, 'NEED A JACK (tool to lift something heavy),' and offered money. Nothing. Just as I was about to give up (stop trying to do something), a van pulled over, and a man jumped out.
"He sized up (looked at) the situation and called for his daughter who spoke English. He conveyed (communicated) through her that he had a jack but that it was too small for the Jeep, so we would need to put something under it. Then he got a saw (tool for cutting wood) from his van and cut a section (piece) out of a big log (large piece of wood from a tree) on the side of the road. We put his jack on top of it and we were in business (ready to begin).
"I started taking the wheel off, and then, if you can believe it, I broke his tire iron (tool used to remove a tire or wheel). Damn!
"No worries: he ran to the van and handed (gave) it to his wife. She was gone in a flash (immediately) down the road to buy a new tire iron. She was back in 15 minutes. We finished the job, and I was a very happy man.
"The two of us were filthy (very dirty) and sweaty (wet from working hard). His wife brought out a large water jug (container with small opening) for us to wash our hands. I tried to put a 20-dollar bill in the man's hand, but he wouldn't take it, so instead I went to the van and gave it to his wife as quietly as I could. I thanked them up one side and down the other (many times). I asked the little girl where they lived, thinking maybe I'd send them a gift for being so awesome (very good, impressive). She said they lived in Mexico. They were in Oregon so Mommy and Daddy could pick cherries for the next few weeks. Then they were going to pick peaches and, after that, go back home.
"After I said goodbye and started walking back to the Jeep, the girl called out and asked if I'd had lunch. When I told her no, she ran over and handed me a tamale (a traditional Mexican food; see the picture).
"This family, probably poorer than just about everyone else on that stretch (area) of highway, took a couple of hours out of their day to help a strange guy on the side of the road while people in tow trucks just drove by.
"But we weren't done yet. I thanked them again, walked back to my car, and opened the foil (thin metal sheet for wrapping food) on the tamale. What did I find inside? My $20 bill! I whirled (turned quickly) around, ran to the van, and the guy rolled down his window. He saw the $20 in my hand and started shaking his head no. All I could think to say was, 'Por favor ('please' in Spanish), por favor, por favor,' with my hands out. The guy just smiled and, with great difficulty, said in English: 'Today you, tomorrow me.' Then he rolled up his window and drove away with his daughter waving to me from the back.
"I sat in my car eating the best tamale I've ever had, and I just started to cry. It had been a rough (very difficult) year; nothing had seemed to go right for me. This was so out of left field (unexpected) I didn't know what to do.
"In the several months since then, I've changed a couple of tires, given a few rides to gas stations, and once drove 50 miles out of my way to get a girl to an airport. I won't accept money. But every time I'm able to help, I feel as if I'm putting something in the bank (collecting or saving something for the future)."
Have you ever had an experience like Justin's? How did it affect you?
~ Warren Ediger – creator of Successful English where you can find clear explanations and practical suggestions for better English.
Photo of a tamale by Anita Sarkeesian used under Creative Commons license.