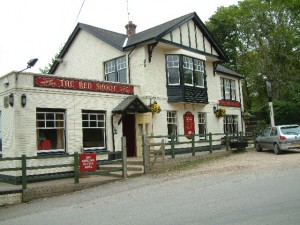 If you ask my wife, she might tell you that our two sons led me astray (caused me to do something foolish) a few years ago. She and I frequently enjoy a glass of wine with dinner. But neither of us had ever developed a taste for (learned to enjoy) beer. That changed one Saturday afternoon a few years ago when the boys invited me to join them at a small pub (bar, most often used in British English) near where we live.
Around the world, beer is the third most popular drink after water and tea. It's been around (existed) for thousands of years. The earliest chemical evidence of beer, from about 3200 BC, was found in western Iran. And the Code (laws) of Hammurabi, from Babylon (in modern Iraq) in about 1700 BC, included laws that regulate (control) beer and businesses that serve beer.
According the recent documentary movie Beer Wars, 78% of the beer drunk in the U.S. is made by only three companies – Coors, Millers, and Anheuser-Busch. It's mass-produced (made in large quantities), like cars and many other things. So where does the other 22% come from? Most of it is imported, but about 5% comes from the little guys (small businesses), from what are known as (called) microbreweries.
A microbrewery is a brewery (a place where beer is made) that produces a limited (small) amount of beer, much less than the three large mass-producers. Some microbreweries are associated with restaurants. For example, most of the BJ's Restaurant and Brewhouse locations in the U.S. include a brewery that produces the beer that is sold at that restaurant. A brewhouse or brewpub is a business that brews and sells beer on their premises (the building or property used by a business).
According to Wikipedia, the term microbrewery originated (began) in the U.K. in the late 1970s. And it spread to the U.S. a few years later. Microbreweries are also known as craft, artisan, or boutique breweries. Craftsmen and artisans are people who do skilled work and often make things with their hands. Boutique refers to a small shop that sells a particular type of product or products made by a specific company.
Not too long ago, the website GOOD published a map of the U.S. that shows the favorite craft beers from each state. Only one – Idaho – failed to nominate a favorite! Craft beers are becoming very popular in the U.S. and, if you read the comments about the map, craft beer drinkers are very passionate (have strong feelings) about their beers.
When I joined my sons that Saturday afternoon, this is the world they introduced me to — the world of imported and craft beers. They are both connoisseurs (someone who knows a lot about something) and frequently recommend new beers for me to try. I still don't drink a lot of beer, but I'll admit that I occasionally enjoy one, especially with them. And my wife doesn't really seem to mind (care or is upset).
Someone is sure to ask if I have a favorite. It's a hard question to answer, but if I have to pick one today, I'd probably say Chimay Bleue (Blue) from Belgium. It's brewed by the monks (a community of religious men living together) of Scourmont Abbey, a Trappist monastery (a place where monks live) in the Belgian town of Chimay. They've been brewing and selling ale, or beer, since 1862 and making cheese for sale since 1876.
~ Warren Ediger – creator of Successful English, where you can find clear explanations and practical suggestions for better English.
Photo of The Red Shoot, a brewpub in England, used under Creative Commons license.