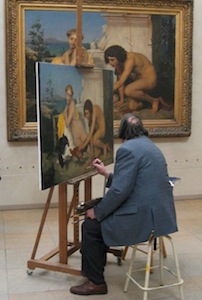 I was distracted (my attention was taken away from what I was doing) yesterday by a blog post that took me first to a fascinating article and from there to an equally fascinating website.
Mindful Seeing
If you remember, in my last post, I briefly introduced D'arcy Norman's idea of "mindful seeing." Mindful seeing is paying more attention to what you see and, as a result, seeing more – textures (how something feels when you touch it), light, shapes, patterns (repeated shapes, colors, lines), groupings (several things together), even messages.
The article I saw yesterday introduced me to a great example of mindful seeing. I'd like to share it with you because I think you'll enjoy the photography, and because it will give you an opportunity to have some fun with words.
Richard Nagler lives and works in northern California, near San Francisco. He runs (manages) a company that manufactures skylights (windows in the roof of a building), but he's rapidly becoming known for his photography.
Nagler recently published a book called Word on the Street. He spent more than 35 years looking for images (pictures) that included one person and one word. They had to be natural – he didn't plan them or pose (arrange) them. They had to come together in an accidental way. Nagler said that some of the images came together very quickly, almost immediately. Others took weeks.
Word on the Street began in the 1970s when Nagler saw an old building in Oakland, a city in Northern California, that had the word TIME bolted (attached with bolts, or metal pins) to it in large letters. As he looked up, an elderly (old) woman looked out of a window above TIME, but she quickly closed the curtain when she saw him. He returned several times during the next few weeks before he was finally able to capture the image (take the photograph) he wanted – the word TIME and the elderly woman together.
Word Play
When you look at Nalger's Word on the Street photographs, you may get a new or better understanding of some of the words. There are 21 photographs from the book on his web site. You'll know a lot of the words in them. But here are some that you might not know or that might be used differently than the way you learned them:
special (important to someone)
eternal (continuing forever)
providence (the force that controls what happens in our lives)
imagine (to form a picture in your mind about what something could be like)
lies (things that are not true)
grace (moving in a way that is relaxed and attractive)
further (adj: more or additional)
downtown (the center of a city)
farewell (saying goodbye)
victory (success when you win)
Elvis (Presley, of course!)
infinity (space or number without an end)
The photographs change automatically. If you want to stop them so you can look at one for a longer time, click on the middle of the photograph. To start them, click on the middle of the photograph again.
His pictures have been called playful (funny; entertaining); poignant (make you feel sad); ironic (seeing/hearing the opposite of what you expect); and shocking (surprising; upsetting; difficult to believe). What adjectives would you use to describe them?
You can find more of Nagler's Word on the Street photographs on web pages from National Public Radio, the San Francisco Chronicle, and the Los Angeles Times.
A Bonus (something good you didn't expect)
Nagler has used the same method to create another set of photos called Looking at Art. In this collection there are no words, just people and pieces of art. If you like art, I think you'll enjoy this collection.
~ Warren Ediger – creator of Successful English, where you'll find clear explanations and practical suggestions for better English.
Photograph by W. Ediger taken at the Musee d'Orsay in Paris.