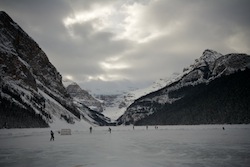 In the last couple of weeks, I've run across (found without looking) some things on the Internet that share a common (similar) theme (subject or idea). On the surface (the part that's easy to see) they appear to be very different – taking pictures, writing a newspaper column, writing a comic strip, etc. It's the theme that ties them together (connects them), so let's start there.
There's a modern proverb (wise saying) that goes something like this: we overestimate what we can do in one day; we underestimate what we can do in one year. In other words, we think we can accomplish more in one day than we really can. But when we think about a year, the opposite is true: we can often accomplish more in one year than we think.
The articles I ran across recently were by people, or about people, who did a little of something every day but achieved (accomplished) significant results by the end of a year or many years.
D'Arcy Norman works at the Teaching and Learning Centre at the University of Calgary (Alberta, Canada). Norman enjoys photography, which he calls "mindful seeing." He takes photographs every day, often as he commutes (travels a long distance) to work on his bicycle, even in the winter. Last year, he took more than 10,000 photographs, many with his iPhone. At the end of the year, he selected the best; you can find them here. That's a great accomplishment!
In the 1930s, Chic Young started a comic strip – one of those daily picture stories that's about four squares long and runs (is printed) in a newspaper every day – called Blondie. Almost every husband and wife who read the comic could identify with (see themselves in) Blondie and her husband Dagwood. And they often laughed when they did!
One day at a time – four squares and about 20 words – Young wrote 14,500 comic strips during his lifetime. At one time, Blondie ran in more than 1600 newspapers and was read by more than 60 million people in 17 different languages across the world, including much of Africa. When he died in 1972, Young's son Dean succeeded (followed) him and continues to write the comic strip today. That's a great accomplishment! William Zinsser has written a fascinating story about Young and Blondie; I hope you take time to read it.
As I was thinking about these two stories – Norman's and Young's – I remembered a column (daily newspaper article) I read many years ago by another of my favorite writers, Sydney Harris. Someone asked Harris what he does when he doesn't feel like writing a column, and he answered, "I write a column." He went on (continued) to say that "I may not feel like writing a column every day, but I'd feel much worse if I didn't." I'm sure that many people who commit to (promise to do) an "everyday" kind of task (job or project) feel the same way.
Finally, let me bring each of you (include you) into this article. A couple of years ago, two researchers I know wrote that it would be possible for you to acquire (pick up) 5,000 vocabulary words if you spent 20 minutes a day reading interesting, comprehensible (understandable) English for two years. If you did that and you knew the 5,000 most common English words, you would know almost 90% of the words in an average non-academic (not a textbook) English book or article. That would be a great accomplishment!
Warren Ediger – creator of Successful English where you'll find clear explanations and practical suggestions for better English.
Photo by D'Arcy Norman used under Creative Commons license