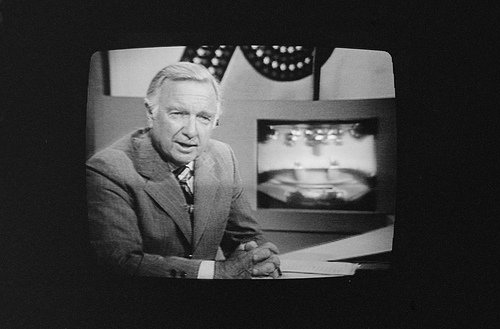 Years ago, I studied news writing and reporting with Bob Taylor. Bob had been a successful television news reporter and editor (news manager) in Chicago, Illinois, before he came to the University of Nebraska J-school (journalism school). Bob wasn't much to look at: he was short and small. But he was sharp – someone who understands things and thinks quickly. He knew good reporting (giving information about people and events) and good writing, and it was a privilege to learn from him.
Bob had two standards (what he expected from us): accuracy (to be correct or true) and brevity (ability to say something in a few words).
I'll never forget his reaction when he read a news story that said some teenagers had "kept warm by burning newspapers" when they had to spend the night (stay all night) in their car after it got stuck in the snow. "Maybe they kept from freezing," he said, "but they certainly didn't keep warm by burning newspapers when the temperature was below freezing (0C/32F)!
I tried – and failed – to impress Bob with my brevity just once. I had spent the day (used the whole day) covering (collecting information for the news) the Nebraska state legislature (the people who make laws). When I returned to the newsroom (place for writing news stories), I summarized the whole day in three sentences. I proudly walked up to Bob's desk, handed him my story, and waited. He looked at it – it didn't take long! – looked up at me, and said, "I know politicians don't do much, but they certainly did more than that!"
News writing and reporting seem to have changed a lot since my days in Bob Taylor's class. Then, we talked a lot about our responsibility to understand the world around us and to clearly explain it to our audience – our readers (newspapers), listeners (radio), and viewers (television) – so they could understand it.
We knew we couldn't be completely objective because it's difficult to keep your feelings and beliefs from affecting what you report. But we could try. And we knew that we all had biases – opinions about people or ideas that influenced how we thought and wrote. But we could always try to be fair (treat everyone in a way that's right or equal) and balanced (give equal attention to all sides or opinions). And we could always work hard to uncover and report the truth.
Today, many news sources don't even try to be objective. In the U.S., many people agree that MSNBC and Fox News – two popular cable news channels – are biased and promote a particular point of view (way of thinking). And not too long ago, the host (person who talks to the guests) of a popular Sunday morning interview program, (where a reporter asks questions of important politicians and other newsmakers) clearly stated (said) that he has no responsibility to try to find out if his guests are telling the truth. He says that's the viewer's job.
Now the St. Petersburg (Florida) Times newspaper is trying to return truth to the news with a new web site – PolitiFact.com. When politicians and political writers or commentators (people who give their opinion on radio/television) say something they question (don't believe), the Politifact reporters check it out (try to find the truth). When they do, they report it on their web site.
Politifact also tracks (searches for and follows) promises made by politicians. During the 2008 presidential campaign, President Obama made more than 500 promises! The Politifact Obameter reports how well the president is keeping his promises (doing what he said he would do). They recently added a GOP Pledge-O-Meter to track the promises made by Republican leaders to help the Republican party take control of the House of Representatives in the 2010 election.
If you want to know the truth about what American newsmakers say, the Politifact web site is a good place to start. It's very informative and fun. I hope you take some time to explore it.
~ Warren Ediger – creator of Successful English, where you can find clear explanations and helpful suggestions for better English.
Credit: definitions for this post come from the Longman Dictionary of Contemporary English.
Photo of Walter Conkrite, famous TV news reporter, from pingnews is used under Creative Commons license.