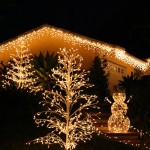 Since Jeff and many of you have been talking about gift-giving, I thought I'd weigh in (give my opinion) on the subject. It's only my two cents (my unimportant thoughts), so take it for what it's worth (don't give it too much importance or significance).
About 10 years ago, I made a decision.  After running around and stressing out (feeling emotional pressure or tension) to find the perfect gift by Christmas Eve, I decided that I would no longer give Christmas presents.  I told my family the next year not to expect any from me and to not buy any for me in return.
It was a controversial decision among my family members, but I got tired of trying to be thoughtful (showing kindness and consideration to other people) on a deadline.  I found myself starting earlier and earlier each year — first November and then October — making my lists and racking my brain (trying very hard) to think of that perfect gift that would please each member of my family.  Perhaps because I dislike shopping so much, each year I came to dread (having the feeling of not wanting to do something) it more and more.  Not only did I dread the shopping, I started to dread the entire holiday season because of what it represented to me: frantic (feeling panicked) buying and endless commercialism (focus on buying/selling and making money).  In the end, I gave up (didn't try anymore) and I told my family they should give up on me as well.
The only exception (something that doesn't follow the rule) I make is to give my niece (my sister's daughter), who is still young, holiday money each year to buy whatever she wants.  She's happy and so am I.
That's not to say that I don't give gifts at all.  My family, especially my mother, has become accustomed to (adjusted to) getting a gift from any time of year.  If I see something I think she'll like, I'll buy it and sent it to her, no matter what time of year it is.  For me, that makes the most sense.  I was thinking of her right at that moment and I wanted her to know it.  She doesn't seem to mind (to dislike it), so that has worked out (been acceptable; been successful).
I'm not saying that I don't like receiving gifts either, of course!  The strangest gift I've ever received, however, was a set of facial cleanser (liquid cleaner for the face) from a student, and a male student at that (in addition)!  Of course I thanked him and appreciated the thought (sentiment; feeling), but it left me wondering if he was trying to tell me something.  It's true that he had to stare (look directly) at my face for an hour a day, three times a week, so that may not be too surprising!
What's the strangest gift you've ever received?
~ Lucy