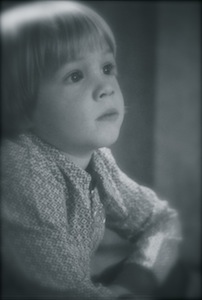 Little boys' dreams often become the lives of grown (adult) men. When I use the word "dreams," I'm not talking about those images and sounds that come to us while we're sleeping. Rather (instead), I'm talking about the hopes and desires that grow from our imagination, often when we're young–sometimes very young. These dreams can give us the courage, strength, and determination to pursue (go after; work toward) goals and ideas that others would never consider (think about doing).
I was reminded of these dreams by two videos that I came across (found) recently. The first video is of a three-year-old conductor. A conductor is the leader of an orchestra (a group of musicians playing instruments). This three-year-old boy is not conducting a real orchestra, but he is using his imagination to do what a conductor does, while he listens to a CD of one of Beethoven's symphonies (a longer piece of music played by a full orchestra). And he does it quite well – for the first 2 or 3 minutes! I don't know if he's really dreaming of becoming a conductor some day; however, this may be where the dream begins.
You can see the video here, on Open Culture, along with the same piece of music conducted by the great Herbert von Karajan.
I identify with this dream because I had the same dream. I didn't start when I was three, but when I was a few years older, I spent hours "conducting" Beethoven's symphonies – all nine of them – in my parents' dining room where the stereo was. Part of that dream came true. Today, as a hobby (something you do for pleasure), I am a member and assistant conductor of a choir (group of singers) that performs music written by many of the great composers (writers of music).
The second video comes from a Yahoo! Canada News story that tells about a seven-year-old boy whose dream took him to the edge (beginning) of space:
Most kids dream about becoming an astronaut (a person trained to travel into space) when they grow up, but one youngster (child) from New York just couldn't wait for a glimpse (quick look; peek) of space.

Seven-year-old Max Geissbuhler and his father Luke came up with a solution (a way to solve a problem or do something): send a balloon equipped with an HD (high definition) video camera and iPhone into the stratosphere – 30 km above Earth's surface.

Father and son packed their equipment into an insulated (protected from hot and cold) casing (container; box) and hitched (attached) it to a balloon. They even included hand warmers to help keep the equipment from freezing (for liquid to become so cold that it turns solid) and a handwritten note from Max to strangers who might discover the balloon.

The experiment was a resounding (very great; complete) success. The camera captured (recorded) amazing footage (video showing a particular event) of the blackness of space and the curvature (curve or roundness) of the Earth before the expanding (getting larger) balloon burst (exploded) – as expected – from lack (not enough) of atmospheric pressure (pressure or force from the weight of air). The team then located their device, protected by a parachute (a large piece of fabric that fills with air and allows a heavy object to fall slowly), by utilizing (using) the iPhone's GPS (global positioning satellite) capability.

Despite not technically (officially) reaching space – the boundary (line that marks the edge of something) is usually defined as 100 km above Earth's surface – the camera did get a peek (glimpse; quick look). Not bad for a seven year old.
You can see the video here – Homemade Spacecraft – on Vimeo.
Little boys' – and little girls' – dreams are important. They often provide the spark (action or event that makes something happen) they need to accomplish (do) great things. I've seen it happen.
I hope that you and your children dream dreams – and accomplish them!
~ Warren Ediger – creator of Successful English – where clear explanations and practical suggestions help dreams of better English come true.
Photo by W. Ediger