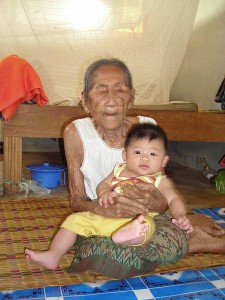 As many of you know, I turned (reached the age of) 47 this year. Am I old?  The answer to this question depends, in part, on how old the person is who answers it.
A recent study by the Pew Research Center here in the U.S. found that – not surprisingly – the older you are, the older you think "old" is.  Below are their findings (results of their survey):
If you are an 18- to 29-years old, you think "old" is 60.
If you are ages 30 to 49, you think that 69 is "old."
If you are from 50 to 64, you think 72 is "old."
If you are 65-years-old or older, you think 74 is "old."
There is a 14 year difference between what a twentysomething (someone in their twenties) and those who are over the age of 65 think "old" is.  Of course, the notion (idea) of "old" has itself gotten "older" over the years; that is, someone in 1810 would have thought that you were "old" at a much younger age than 60 or 70, since the average person simply didn't live that long.
Perhaps by the time I'm 74, I'll be considered just a kid!
~ Jeff
Photo credit: Wikipedia Public Domain