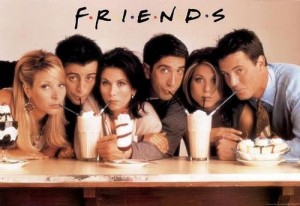 The new television season began recently in the U.S. And two writers – Neal Gabler from the Los Angeles Times and David Brooks from the New York Times – wrote about an interesting feature (something you notice) of many of the new shows – the importance of the flock.
When we use the word flock, we're usually talking about a group of animals – sheep, goats, or birds. But these writers are using it a little differently to refer to a large group of people that are related to each other as friends, family members, or neighbors.
Both writers say that we'll be seeing "lots of folks (people) spending the better part (most) of their day surrounded by their friends and family…." They will wander (walk without a specific purpose) "into the unlocked apartments and homes of friends, family, and neighbors, at any time of the day or night." Gabler and Brooks say that television has become a "friendship machine" that distributes, or provides, "groups of people…sitting around living rooms, restaurants, and coffee shops, sharing everything all the time."
What is different about this? In the past, many American TV programs have been about individuals, close friends, and the nuclear family (husband, wife, and children). The new shows are expanding the circle (increasing the number and kind) of relationships that people participate in.
This trend (the way something is developing or changing) began about 20 years ago, according to the two writers. It began with Seinfeld and moved on through Friends, Sex and the City, Desperate Housewives, and other shows. Two of this year's new shows – Raising Hope and Better with You – continue the trend.
This trend is remarkable (unusual or surprising) because scientists tell us that fewer and fewer Americans have close friends. In one recent study, 25% of the people said they had no one to confide in (talk to about personal things). Another study found that the average American has only four close relationships, including family members.
The two writers wonder if the decline (decrease in number or importance) in real friendships may explain why social-networking web sites – like Facebook, where you can be "friended" – have become so popular. But they also worry that virtual (online) friendships are a poor substitute (replacement) for having real people that you can meet, talk to, and share your life with.
At the end of his article, Neal Gabler suggests that "we miss the friendships we no longer have, and we know that Facebook or e-mails cannot possibly compensate for (replace, or take the place of) the loss. So we sit in front of our television sets and enjoy the dream of friendship instead: a dream where we need never be alone, where there is a group of people who would do anything for us, and where everyone seems to understand us…."
I'm curious – do you think these two writers are right? Have these television shows become popular because we have fewer real, close friends? Do we really live in a world where we can only dream about real friendship? How does this compare with what you see in your country? Is it similar, or is it different?
Warren Ediger – ESL tutor and coach; creator of Successful English, where you can find clear explanations and practical suggestions for improving your English.
Photo by Hot Rod used under Creative Commons license.