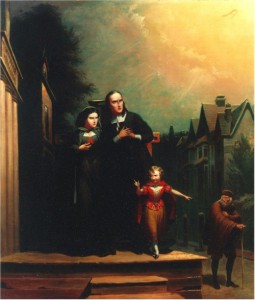 Most Americans have either read or heard of a story by Nathaniel Hawthorne called The Scarlet Letter, which takes place in 17th-century Boston. In the story, a woman has to wear a scarlet (red) letter "A" because she has committed adultery (had sex with someone who is not one's husband or wife). It's an example of using shame (embarrassment over having done something wrong) to punish and to influence certain behavior in a way that we are supposed to find cruel and unwarranted (done without a good reason). Nowadays, when we say something is like a "scarlet letter" we mean that it is an unfair punishment, a cruel method of changing behavior.
Well, it appears that shame is back, and now it's good! According to a recent story in The Wall Street Journal, some psychologists are now recommending that the best way to get people to "turn green" (do good things for the environment) is to use peer pressure (the actions and opinions of your friends and family) and shame. For example, you are more likely to reuse (use again) your hotel towels when you are told that everyone else is reusing theirs, rather than because it is "good for the environment."  People use less energy in their homes when their energy use is published on a website and compared to their neighbors, rather than simply being asked to cut back (use less).
The new, 21st century lesson of The Scarlet Letter appears to be this: Shame is actually a good thing if it is used to change a behavior we don't like.
~Jeff
Image credit: "The Scarlett Letter" by T.H. Matteson, 1860; Wikepedia CC.