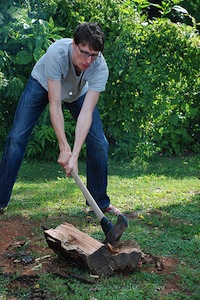 I've always admired people who could look at the stuff (objects and activities) of everyday life and find wisdom. My grandfather was one of those people. So is Seth Godin.
What is wisdom?
Wisdom is an elusive (difficult to describe) idea. It's more than being smart or knowing a lot. To put it (say it) simply, wisdom is the ability to make good judgments (opinions from careful thinking) and decisions. It's the ability to make appropriate (correct), practical use of what we know. We can learn wisdom from others, but most probably comes from experience, from the knowledge we gain (get little by little) from life.
Splitting wood
This little bit of wisdom from Seth Godin caught my eye (got my attention) because it reminded me of an earlier time in my life. Until I moved to California, I lived in Kansas and Nebraska – in the center of the U.S. – not too far from Minnesota, where Jeff grew up.
For a couple of years, I owned a piece of property (land) in Nebraska with large oak trees. And I cut dead branches off of the trees to burn in our fireplace. If you're familiar with oak, you know it's very hard wood. That's good because it burns longer and hotter than soft woods. But it's bad when you're trying to cut it and split it (break or separate them into smaller parts). It's a lot of hard work.
I would always cut the branches into pieces about two feet long – just right for our fireplace. If the pieces were too big around (the diameter, or distance around, was too large) I also had to split them. There are machines you can use to do this, but I did it by hand (myself), usually with an axe (tool with long handle for cutting trees), just like the man in the picture.
Log-splitting wisdom
Here's Seth Godin's log-splitting wisdom, a lesson for life:
When using an axe to split logs, it's awfully (very) tempting (looks like a good idea) to aim (choose the place to hit) at the top of the log. After all, if you miss the log entirely, it's dangerous or at the very least, not effective….

The problem with aiming at the top is that the axe loses momentum (energy) before its work is done and you end up with a stuck (impossible to move) axe and half a split log.

No, the best approach (method) is to focus (concentrate) on splitting the bottom of the log. Split the bottom and the top takes care of itself (happens automatically as a result).

I'm not talking about turning the log upside down or some other trick. I'm pointing out (showing or demonstrating) that if you aim at the top – at getting started – then you don't split the wood. If you aim at the bottom – starting at the top – then you do. Hitting the top of the log isn't the goal (purpose), it's only the beginning of the stroke (movement of the axe through the wood). In other words, don't focus so much on starting something. It's the follow-through (continued movement) that will get you there, so the beginning must be with the end in mind. And yes, this actually makes wood chopping far (much) easier.
I think Godin is right – about splitting wood and about life.
*down-home – a simple, unpretentious (not trying to impress) way of life; having simple values or customs (ways of doing things).
~ Warren Ediger – creator of Successful English, where you can find clear explanations and practical suggestions for improving your English.
Photo by Ollie Crafoord is used under Creative Commons license.