Last week, I saw a picture on the Los Angeles Times website that made me smile: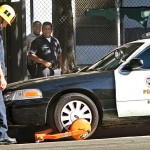 In Los Angeles and many other cities, if you fail to (don't) pay your parking tickets, your car may get a boot placed on it.  That's the orange lock you see in the picture above.  You probably won't get a boot for just one parking violation (breaking of the law), but if you allow parking tickets to accumulate (add up; increase in number), then you may find an unpleasant surprise waiting for you.  The boot, of course, prevents a driver from driving that car until the parking tickets have been paid and the boot is removed.
The picture above is of a police squad car used for patrolling (keeping a watch over) the streets.  The squad car was parked in downtown Los Angeles and the police officers were inside the courthouse (where judges have trials).  This car got a lot of attention, but of course, it was a joke. The boot was not placed there because the police officers failed to pay their parking tickets.  In the first place (firstly; the first thing is), we assume that police cars don't get parking tickets even if they are parked illegally, and secondly, if they did get a parking ticket, the police officers themselves could probably "fix" them (make them disappear), as I wish they would do for me.
In fact, it appears that an unknown person had put this boot on the police car and had scratched off the serial number on the boot, meaning that this person had removed with a sharp object the identification number on the boot.
If you live in Los Angeles, you probably drive a car.  If you drive a car in Los Angeles, you have probably received quite a few parking tickets.  Even if you're a careful driver who reads all of the parking restriction (limiting) signs, you may still have received more than one parking ticket.  On some Los Angeles streets, you may find parking signs that are so complicated that it takes you five minutes to read and figure them out.  It is not uncommon to see signs like this one :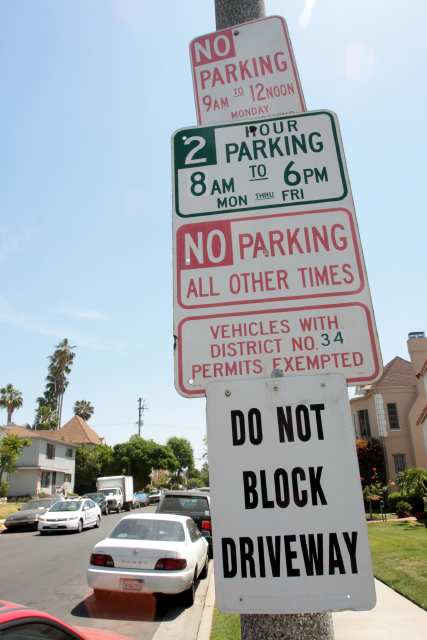 Given (considering) the signs that Los Angeles drivers have to put up with (endure; live with even though we don't like it), do you blame us if we have a laugh or two when the tables are turned (the situation is reversed)?
The boot is Los Angeles's way of dealing with unpaid parking tickets.  What do the police do in the city or town where you live?
~ Lucy
P.S. "To get the boot" has another meaning.  It means to be fired from a job or to be forced to leave a job.  For example, "Lucy got the boot when her boss found her spending all of her time reading the Los Angeles Times blogs."
P.P.S. On a completely different subject, I wanted to mention that although we're not able to participate as much as we'd like to in the comment section of the blog, we read every single one of your comments.  So please give us your feedback about what you like and don't like, or tell us your opinion about the topics we discuss.  We love to hear from you and your comments are very important to us.