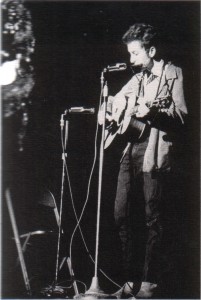 I took a trip this week – in my mind – to the past, to my early college and university days. The trip was prompted (caused) by an announcement of a new book, Bob Dylan in America, by Sean Wilentz. Seeing that title (name of the book) brought back memories of difficult times in the United States – violent (very strong) disagreement about the war in Vietnam and civil rights (treatment of African Americans) – and of some of my favorite music.
Wilentz is an American history professor at Princeton University and "historian-in-residence" at BobDylan.com. (We use the phrase "____ in residence" to indicate someone with a special occupation, like an artist or musician, who is paid to work at a university or, here, for a web site.)
Willentz believes that Dylan is the most important American songwriter of the last 50 years. Dylan will always be identified with (connected to) the '60s, which were years of social unrest (a time of disagreement about social problems, like civil rights) and protest (public show of disagreement). Dylan and the feelings he expressed in his music were an important part of that era (time period). Many Americans shared (had the same) his feelings and ideas.
Dylan is probably best known for his song Blowin' in the Wind. Most people would call it a protest song – a song calling for social change – because it asks a lot of questions about peace, war, and freedom. It became one of the most popular songs sung by Peter, Paul, and Mary – one of my favorite groups – another group that was involved in the musical protests of the 1960s.
Blowin' in the Wind asks a lot of questions, but it doesn't give any specific answers. Instead, each question is followed by a refrain (repeated words) – "The answer, my friend, is blowin' in the wind." Some think the refrain means that the answers are right in front of us, like the wind blowing in our faces. Others think it means that the answers are difficult, like trying to catch the wind in your hand. No one knows for sure.
We may not be sure what Dylan meant, but for many people Blowin' in the Wind summarizes (gives the main points of) the 1960s – a time of social conscience (concern about social issues, like war and civil rights), idealism (ideas about a perfect world), and a touch (small amount) of melancholy (deep, long-lasting sadness) – for many people.
Dylan, who was born in 1941, is still active today. He continues to tour (travel and perform) on what has been called the Never Ending Tour. He has received many awards, including Grammy (music industry), Golden Globe (international entertainment), and Academy (movie industry) Awards, and has been inducted into (made a member of) the Rock and Roll Hall of Fame. In 2008 he received a special award for his impact (effect) on popular music and American culture. I think he deserves it!
~ Warren Ediger – ESL tutor/coach and creator of Successful English, where you can find clear explanations and practical suggestions for improving your English.
Photo from Joe Gratz is used under Creative Commons License.