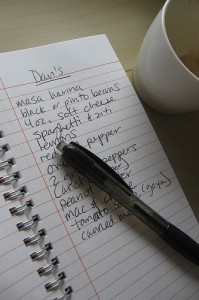 A few of my RSS and Twitter feeds (messages that come to my computer) give me glimpses (quick looks) from time to time (occasionally) into life in the U.S. and around the world. Some are funny. Some are strange. Some are heart-warming (give a good feeling) – like the friendship between an elephant and a dog at a "retired elephant" sanctuary (protected area) in Tennessee. Others are like the story of Bill Keaggy, funny and strange.
Bill Keaggy is a collector (someone who collects things) – we might even call him a compulsive (he can't stop or control what he does) collector. His latest collecting habit is earning him some notoriety (fame for something unusual or bad) and, possibly, a little money.
In 1997, Bill Keaggy picked up a discarded (thrown away) grocery list (list of things to buy at a supermarket) at a St. Louis supermarket. He said it was interesting because it gave him a fascinating view into a stranger's life. Keaggy was hooked (felt a strong need to do it again). He decided to pick grocery lists up wherever he found them.
In 2000, Keaggy posted (published on the Internet) his collection of about 40 lists on the Internet. In 2004 the New York Times Magazine wrote an article about him and his grocery list collection. By then, he had collected about 500 lists.
In early 2006, he started working on a book about the lost lists. When the book was published – in May 2007 – he had 1,600 lists on his website and thousands more that needed to be scanned (to make a digital picture of) and posted.
Keaggy's book, Milk Eggs Vodka: Grocery Lists Lost and Found, features (includes; shows) about 300 of the best lists – the funniest, weirdest, saddest, strangest, unhealthiest, and more. It is a strange, fascinating, and funny look at other peoples' discarded grocery lists.
Keaggy says he learns a lot by reading the lists. He's surprised by how many people like onions. And he's noticed that a lot of people have trouble spelling. Mayonnaise (a thick, creamy mixture people put on sandwiches) is always a problem – as are bananas, anchovies (a small, salty fish often put on pizzas or in salads) and yogurt (a sour food made with milk). But even common words – rost befe (roast beef), buter (butter), burd fude (bird food), krakers (crackers), londri sope (laundry soap), and birfday kard (birthday card) – can cause trouble.
Every year Keaggy chooses the top 10 lists of the year and posts them on his website. I looked at a few of them. If you're the person who wrote the #1 2008 list – pasta, wht (white) rice, onions, carots (carrots), spag (spaghetti) sauce, and 5 bags of top soil (dirt that is good for planting) – I'm not sure I want to come over to your house for dinner!
~ Warren Ediger – ESL/EFL tutor and coach; creator of Successful English where you can learn more about how to improve your English.
photo by Kristen Rapp used under Creative Commons license